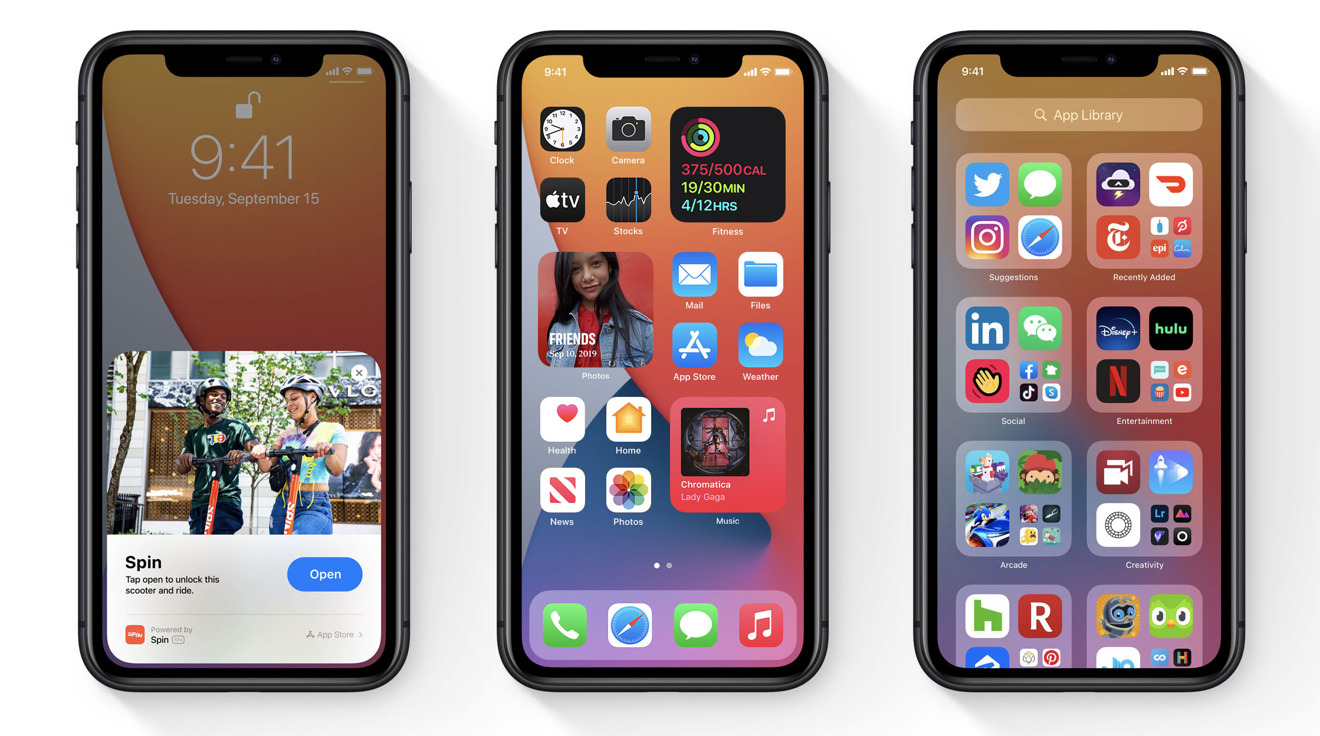 During Apple's Time Flies media event, Apple CEO Tim Cook announced that many of its major software releases will be available to users as free updates starting tomorrow, September 16.
Starting September 16, users will be able to download iOS 14, iPadOS 14, watchOS 7 and tvOS 14 for free on their iPhone, iPad, Apple Watch and Apple TV. These updates contain important features and changes for users across the board.
All of the new Apple devices that were just announced, including the Apple Watch Series 6, the eighth generation iPad, and the iPad Air, will ship with these updates as soon as they are released.
iOS 1
4 features
App library and widgets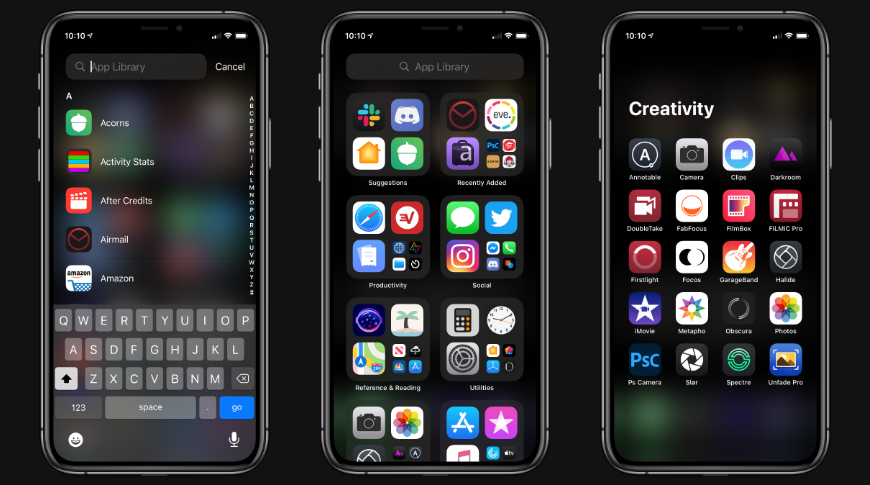 App library
The home screen has changed for the first time since its debut on the first iPhone. Users can now remove any installed apps from the home screen to save them to the app library.
The app library acts as an app repository in which installed apps are automatically organized into app categories and can be found using a search bar at the top of the screen. Navigate to the far right of the screen to view your app library.
Users can remove some or all of the apps on their home screen or hide entire pages. Hiding pages allows users to create specially crafted home screens that can be displayed at different times, such as when they are B. for work or a project.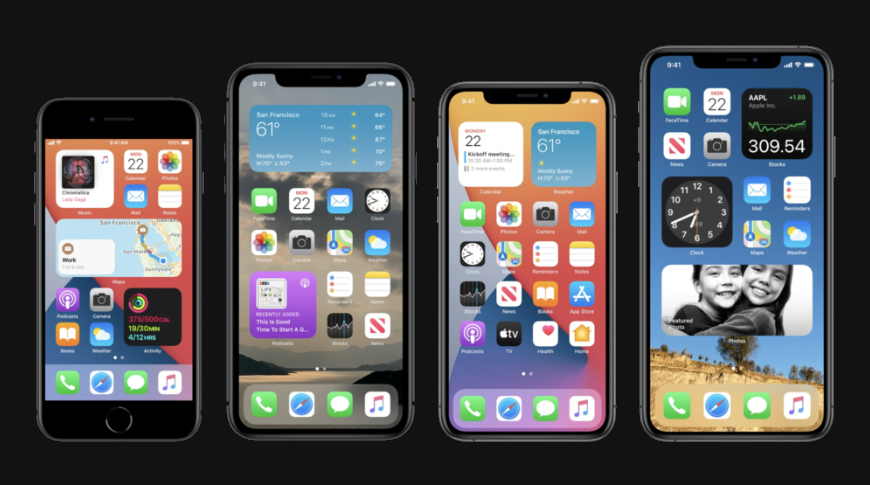 Widgets
For the first time, users can now bring widgets to the home screen. The widgets are available in several sizes and can be placed anywhere on the screen between the apps.
Widgets can be stacked on top of each other for quick switching. There is also a Smart Stack option that automatically displays the most relevant widget throughout the day.
Compact user interface
Another major design change affects iOS 14 called Compact UI. Previously, users would see the entire display taken from the phone app every time a call came in, or Siri would take over the display and obscure all relevant information on the screen.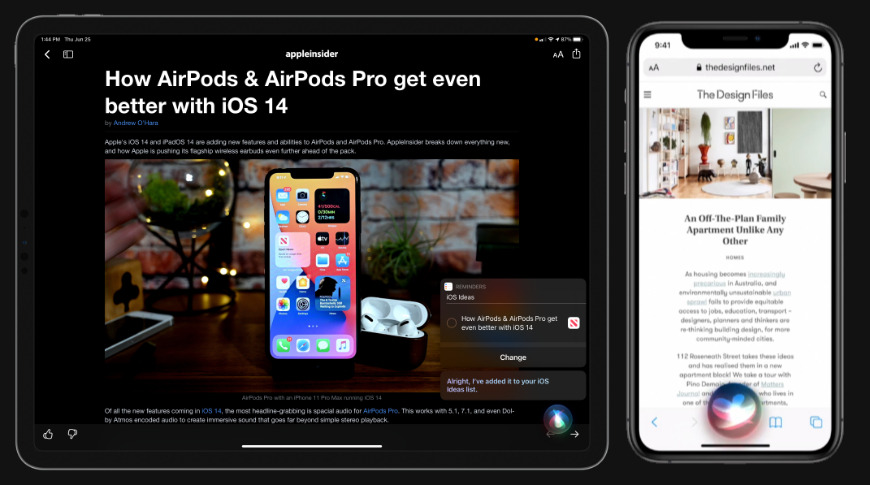 Compact user interface with Siri
Now all interactions that previously took over the screen only take up a small portion of it. Phone calls are displayed as a notification widget from above, Siri acts as a small ball of light at the bottom of the screen, and shortcuts are also made via notification panels.
This change has long been a requested feature by users who did not want their screen to be taken over at any random time due to a phone call or accidental Siri activation.
Siri
In addition to the compact user interface, Siri has noticed a few other changes throughout the system. Siri Intelligence has been updated to better understand the user and remember queries between Siri interactions.
One example is a short, Goldilocks and The Three Bears interactive adventure that lets users choose what happens through responses to Siri. It does this when Siri is asked to "tell me a story". Even if the interaction is over and Siri is called much later, the assistant will ask if you want to continue the story or start over.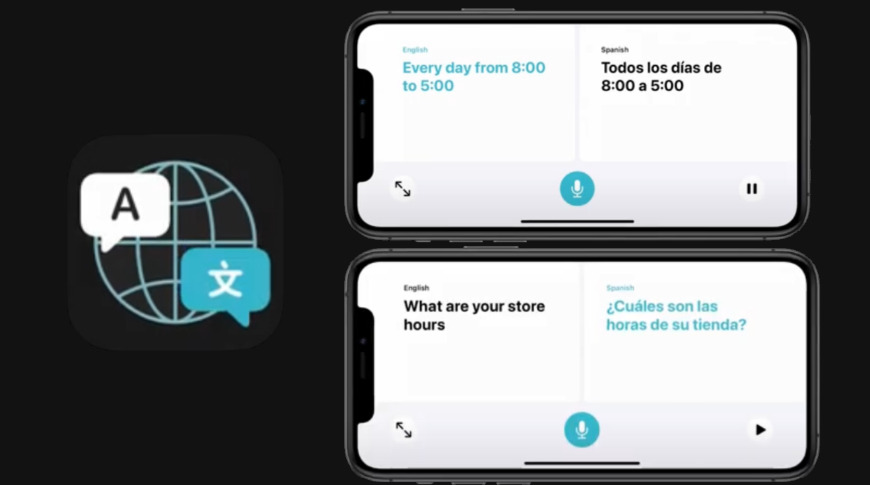 Siri Translate App
Siri does the voice translation on Safari websites or a new app called Translate. Users can open the app and paste text for instant translation or speak into the app for real-time translation and playback. The machine learning feature is fully available on the device and offers maximum privacy and security.
Privacy and security
Behind the scenes, there are some changes to the way data is shared on iOS. When an app accesses the clipboard, camera, or microphone, a small banner appears at the top of the screen.
When the camera or microphone is in use, a small colored dot appears above the signal bar on the right side of the status bar, green for the camera and orange for the microphone. When the Control Center is accessed, a small banner will appear at the top of the screen showing the last app that accessed either the microphone or the camera.
App clips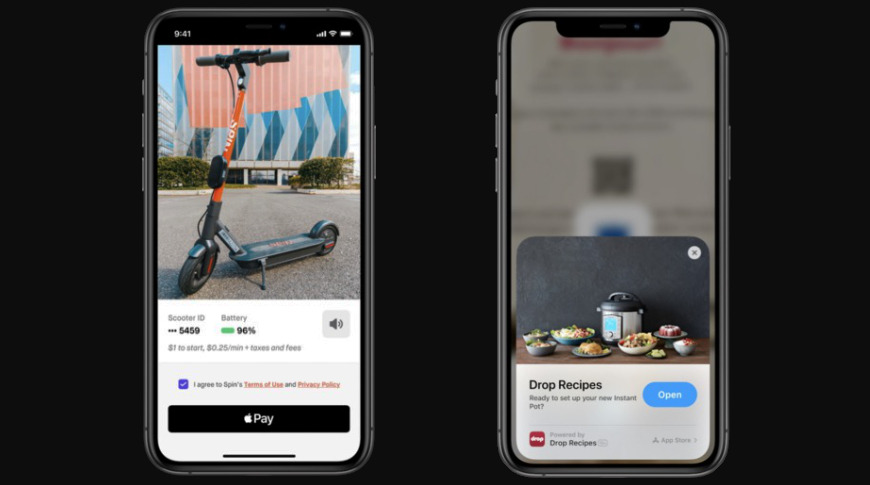 App clips are miniature app experiences
With iOS 14, users can tap an NFC sticker, click a link, or scan a special QR code to access a "clip". These app clips are light pieces of an app that need to be less than 10MB in size and appear as a floating map on your device. From there, you can use Apple and Apple Pay sign-in to complete a transaction in moments without having to download an app.
Other properties
iMessage group chats have threads and member tags.
With CarKey, the iPhone can replace your key fob in compatible cars
HomeKit cameras recognize faces and objects
Watch Youtube in 4K HDR
AirPlay 4K video
Picture-in-picture support on the iPhone
Emoji search within the keyboard
Set your default email and web browser app
Find My allows third-party accessories such as Tile to be displayed in the app
FaceTime eye correction returns
Dark Sky offers current forecasts in the weather app
iPadOS 14 functions
Apple continues to update iPadOS separately from iOS due to the different hardware. All of the aforementioned features are available in iPadOS 14, with the exception of the App Library. The new widgets are limited to the "Today View" on iPads.
The compact user interface changes the way Siri and Universal Search work on the iPad too. With Siri on the screen, users can still interact with the content behind it. The universal search doesn't cover the entire screen and takes a Mac-like design.
Scribble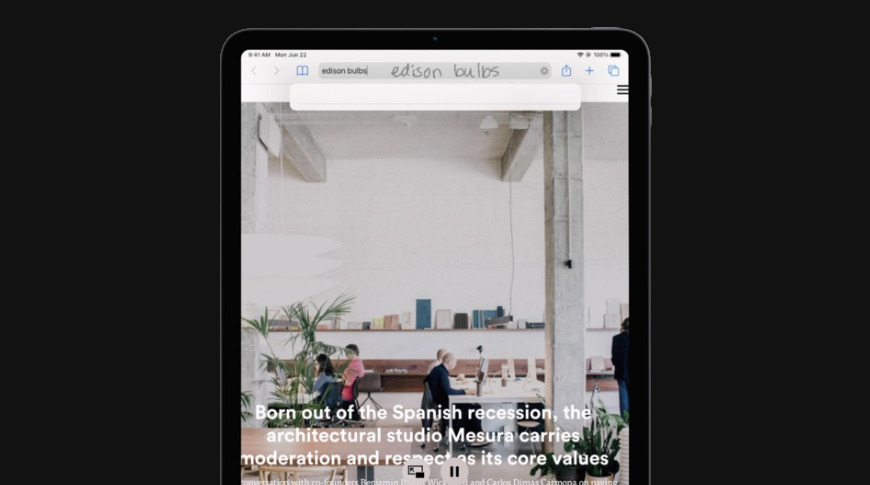 With the Apple Pencil, data can now be written by hand using the operating system. Any text entry block can be typed and the handwritten text is converted to typed text in real time.
Text selection gestures such as tapping to select a word now work with handwritten text. Users can copy and paste handwriting even if they are written in multiple languages. Data recognition also works for phone numbers or addresses written with the Apple Pencil.
Sidebars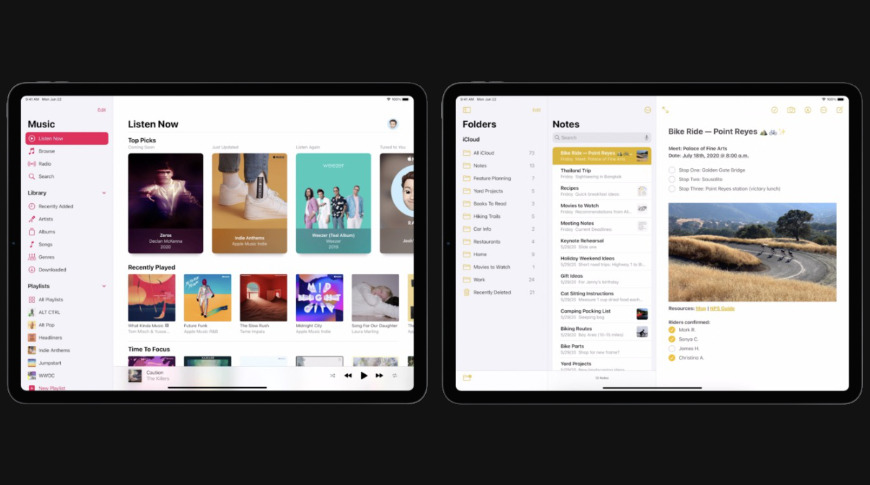 Apple has changed the user interface of many first-party iPad apps. They are now similar to Mac apps with permanent sidebars for navigation. Some apps like Voice Notes can display three areas of information at the same time in portrait or landscape mode, although Apple didn't make this work in every app.
watchOS 7 features
The operating system, first released by Apple during WWDC in June, went through eight developer beta cycles and five public betas prior to its release. Now members of the public who have not participated in any of the betas can download the update and install it on their own Apple Watch.
Users can update to watchOS 7 by accessing the iOS Watch app and navigating to General and then Software Update. However, if the setting is correct, the app can also be installed automatically. The Apple Watch must be charged to at least 50% and placed on a charger within reach of the iPhone in order to install the update.
The update can be used on all Apple Watch models from Series 3.
The main features of the update revolve around monitoring sleep and sharing watch faces. However, as always, there are many elements in the version.
Sleep tracking
Building on the basic tracking offered in Bedtime, the sleep tracking system included in watchOS provides more data on how a user sleeps. By tracking small movements using the built-in accelerometer, users can see how well they slept and track their long-term sleep patterns.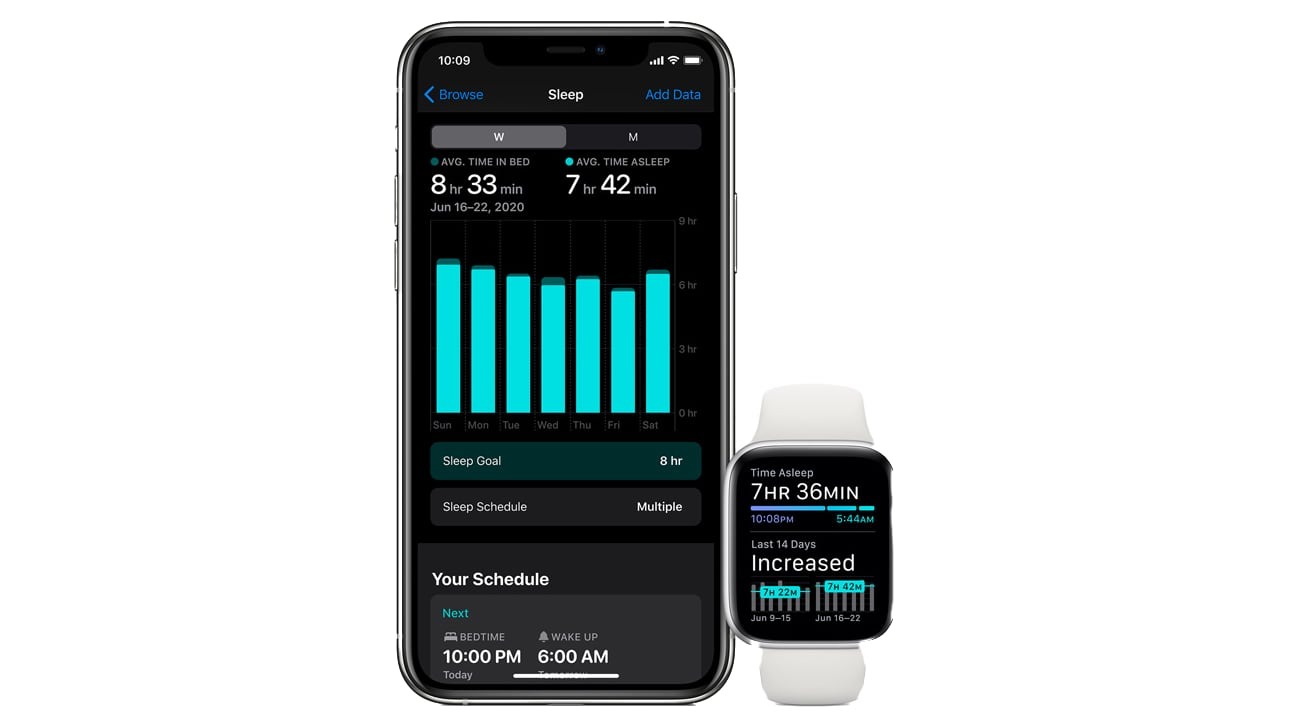 Sleep tracking in watchOS 7 and the iPhone Health app
For a better night's sleep, the Wind Down feature can use the Apple Watch and iPhone to create custom bedtime routines that are triggered when a user is asked to go to sleep. This can include running a meditation app, playing relaxing soundscapes, and dimming HomeKit-enabled lights.
Wash your hands
Given the ongoing COVID-19 pandemic, watchOS 7's hand washing feature can be a very important but minor addition.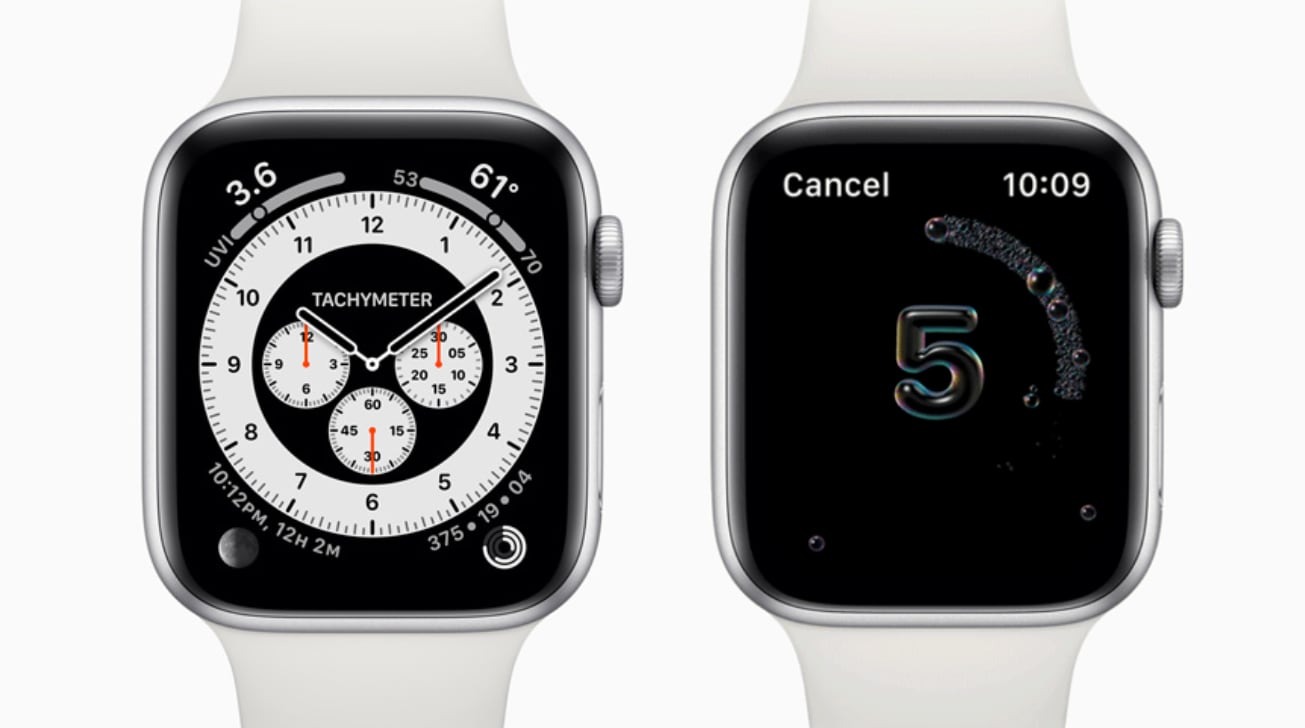 The total station complication and hand washing features of watchOS 7
When the Apple Watch detects that the user is washing hands, e.g. B. by running water, the display shows a 20-second timer to ensure that the user cleans their hands properly. As with sleep tracking, the health app provides details on how often the user washes their hands, as well as other tips on how to limit the spread of disease.
fitness
New training methods such as dancing, core training, functional strength training, and cooldowns are included. These are training types that are not as easy to follow as others previously offered.
To keep track of the dancing, heart rate sensor and accelerometer data are combined for more accurate calorie burn readings.
The health app will also receive more metrics to monitor everyday life, such as: B. walking and stair speed, stride length and gait asymmetry, walking distance and cardio fitness in the lower range.
Faces and parts
The new Chronograph Pro dial has a tachymeter that calculates speed based on the time it takes to travel a set distance. Developers can also add more than one complication per app to a single watch face.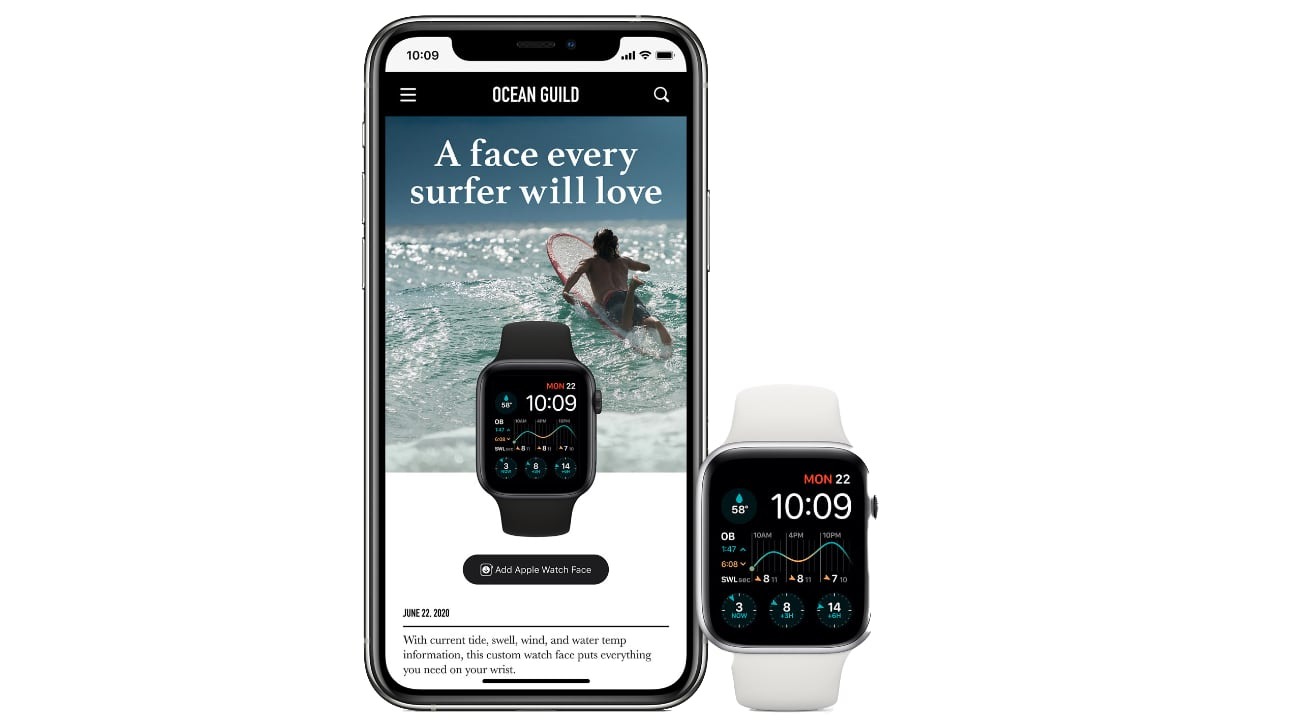 Apple Watch Face Sharing in watchOS 7
Sharing watch faces will also be a big change, as users can share their creations with others via messages, URLs, or by long-pressing the face on the Apple Watch itself. Apple will also curate Apple Watch face configurations, which are available to try on the Apple Watch App Store.
Apple Maps
Simultaneously with the updates made to Apple Maps on iOS, changes are also being made to reflect the Apple Watch experience, including turn-by-turn directions that prioritize bike lanes. This includes excluding routes with stairs and warnings of steep climbs.
Siri improvements
Improvements are being made to the way Siri does dictation on the device to improve the accuracy of voice messages. Access to other features, including Siri's new translation capabilities, will also be available.
Source link