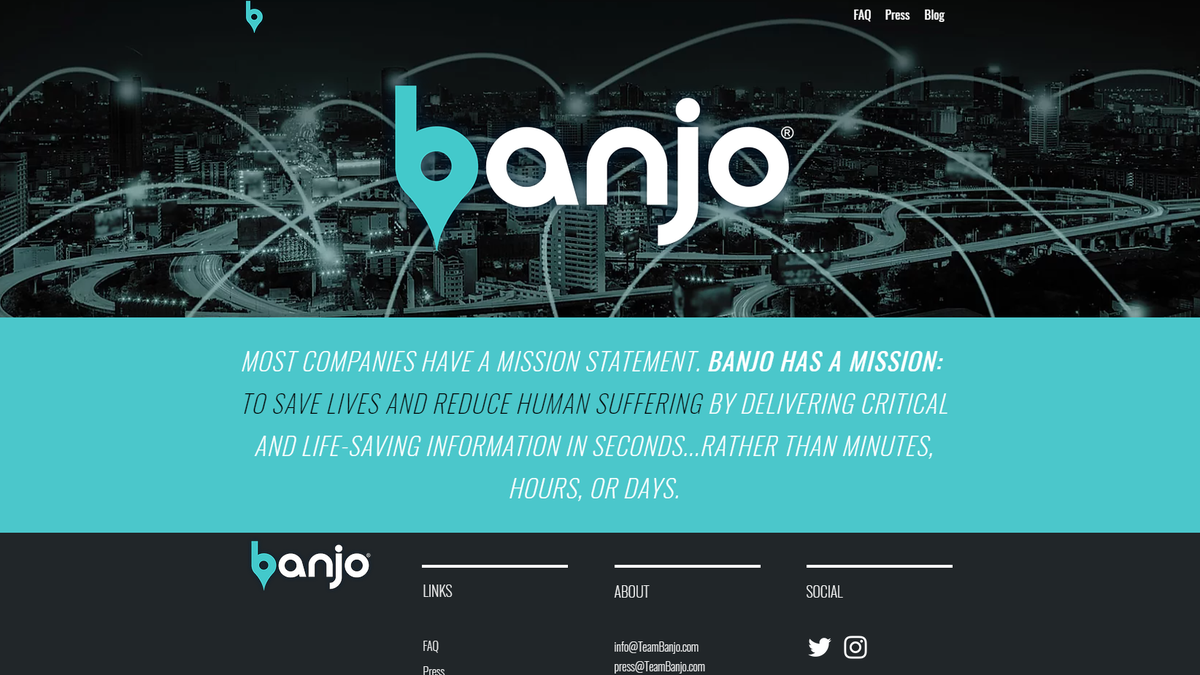 The CEO of surveillance firm Banjo, one of the many companies that use law enforcement agencies across the country for artificial intelligence and big data backing proactive policingleaves the company after an April report outed him as a former neo-nazi skinhead who was involved in a 1990 Ku Klux Klan drive-by shoot at a synagogue.
Banjo wrote in a short blog post On Monday, Damien Patton will no longer hold the CEO role "with immediate effect" and will be replaced by Chief Technology Officer Justin R. Lindsey. The company did not explicitly refer to Patton's past and only alluded to it Statement.
"I am confident that Banjo's greatest days are still ahead and I will do everything in my power to ensure that our mission is successful," Patton wrote. "However, given the current circumstances, I believe Banjo's best way forward is under a different leadership."
The investigation, Posted on OneZero last monthWhen Patton was 17, he was with the Ku Klux Klan Dixie Knights and testified in court against other members that he was the driver of an evening shootout at a Nashville synagogue before hiding on a paramilitary site and leaving the state. No one was physically wounded or killed in the incident.
Patton was indicted and found guilty of juvenile delinquency, while the other two clan members, Leonard William Armstrong and Jonathan David Brown, were charged with civil rights. According to OneZero, Armstrong made a plea deal and Brown was convicted of aiding and abetting a civil rights violation and two grand jury charges for lying to the grand jury.
Reebok brought the jacket back Michael Jordan Dissed Just at …
Patton also admitted to participating in other clan-related activities such as meetings and speeches, and OneZero found him appeared in a photo in an article in August 1992 in the Tennessean about efforts to build an Aryan Nations office in Tennessee. ThThe photo showed Patton and other white supremacists in the house of the former leader of the Aryan nations Bobby Norton.
Banjo signed a five-year, $ 20.7 million contract with the state of Utah in July 2019 to access and combine data such as traffic and surveillance camera feeds, emergency calls, geolocation data for state vehicles and more with data from social media feeds what it calls a "live time intelligence" system. According to the motherboardIn early March 2020, it was connected to 911 call centers across the state and was deployed or planned in 13 counties, 13 of the state's largest cities, and 10 other "significant" cities, the University of Utah, campus, and dozens of other locations.
That contract was put on hold As of April 30; in one TechCrunch explanationThe Utah Attorney General said it was "shocked and dismayed" to learn about Patton's past. The Deseret News reported The AG's office carried out a previously planned examination of the contract with Banjo and tried to commission a third-party contractor to carry out an investigation.
Auditor John Dougall also said his office will review whether there is evidence that Banjo's platform exists all "algorithmic distortions" Adding the probe would be complicated enough to involve private experts, law enforcement agencies, and universities, and it could take up to a year to complete.
Research has shown that surveillance Technologies like face recognition are are in their current state enforced with algorithmic prejudicesand make their use in mass surveillance alarming beyond that other privacy and process concerns that they raise– and Banjo is not the only company in this field whose founder has a questionable background story. face Recognition firm Clearview AI recently announced that it would terminate all private contracts after reports were released his boss Hoan Ton-These are far-reaching connections to extreme right movementto tell the company it would instead focus on his efforts with law enforcement.
Patton told the Deseret News that he had "Suffered Abuse in All Forms "as a child and that he had given up his extremist views while serving in the U.S. Navy.
"I did terrible things and said despicable and hateful things, including my own Jewish mother, which I find unsustainably wrong today and for which I feel extreme regret. " Patton told the newspaper. "I have spent most of my adult life making amends for this shameful time in my life … I am sorry for those I have hurt and who will hurt this revelation. No apology will undo, what I did. "
Patton added that his intention was with his most recent work "Stop human suffering and save lives without violating privacy. I know I can never erase my past, but I work hard every day to make up for mistakes. I will never stop doing that. "
A company spokesman confirmed this to the Deseret News that Patton is no longer "an employee who is no longer on the board and has no operational capacity in the company. "
Source link