"S.Science has found indisputable evidence that the level of our oceans is increasing. This is the result of a sudden and unexpected rise in our planet's northern temperatures. Ice masses melt away quickly. If the thawing rate continues, civilization may be submerged near the sea, causing profound changes in the climate, soil, sea, and race itself. The whole face of the earth could be approaching a great transformation. "
This is a fairly introductory paragraph, but not mine. It is part of a story entitled "Sea Levels Rising"
; that was released on Thursday in the Central Queensland Herald. Thursday September 30, 1948.
This was not what I expected when I started browsing Trove, the newly launched digital library of the National Library of Australia. The archive has digitized versions of Australian newspapers, community newsletters, reports and audio recordings from the early 19th century. The new website is designed for use by ordinary people, not doctoral students. Like me.
I wanted to try to track down the earliest indication of climate change in Australian newspapers. First, because I could. But secondly, because I wanted to know how long we had known this would come. During the last black summer, I was overwhelmed with fatalism, with the disgusting feeling that we had been warned. Now I wanted to find out how long we had known.

I knew we had been warned about climate change since the late 1960s. I knew there had been scientists who theorized about climate and carbon for longer.
But I thought I would stretch when I entered the search term "climate change" and set the search parameters for newspapers published between 1930 and 1950. I expected that there could be some records of floods, droughts, or heat waves, but nothing ambiguous. Then the results came. I gasped. According to.
Climate change: the world warms up, courier mail, Monday, May 22, 1950
There was more.
The whole earth seems to be warming up, courier mail, Friday, June 6, 1947. Scientists, the Argus, the Arctic is melting, Saturday, May 31, 1947. World climate hotter, the world news, Saturday, March 16, 1940. World changing climate – scientists Confused, courier mail, Friday, April 21, 1939. Carbon dioxide. Could Change the World, Townsville Daily Bulletin, Tuesday July 25, 1933.
These are not headlines that are misunderstood by contemporary understanding. This is reporting on climate change as we understand it today, albeit in its infancy and with uncertainty as to whether this change was bad.
It was clear that I had to go further. I looked in the 19th century newspapers. There were sporadic articles on drought and how some old colonialists had remembered different weather conditions decades ago, but there was nothing about climate change as a phenomenon separate from individual memory and thought.
I started browsing the 1920s records. Reports from 1926 linked the warmer winters in Europe with "carbonic acid". A 1923 report, entitled "Causes of Climate Change", dealt in detail with the warming of the North Pole.
Furthermore. I would have to go back further.
I changed my search parameters again. And there, hidden on page 4 of the Picton Post, was a story between a report about a new jumping machine that not only turns the rope but also the jumps, and another about Swiss engineers drilling a tunnel through the Caucasus one paragraph ::
"Coal consumption affects the climate". Starting Wednesday, July 17, 1912.
At almost exactly 108 years of age, it may appear to be the first general public warning of man-made climate change in Australia. The coal burning in the stoves of the world, according to the regional newspaper, adds 7,000,000,000 tons of carbon dioxide to the atmosphere every year. "This tends to make the air a more effective blanket for the earth and increases its temperature. The effect can be considerable in a few centuries. "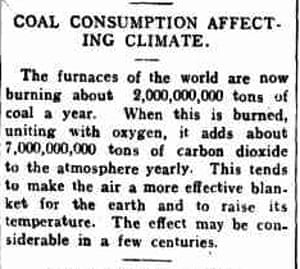 Almost instantly, my understanding of climate history changed, and within a few moments I was consumed by a renewed, more pressing feeling that our inaction and rhetoric on the subject had passed the point of forgiveness.
But it was not very difficult to find. It took a free afternoon to sit at home and click on a search icon.
Renewed resource
Trove relaunched a decade after its birth, following a four-year effort to streamline the site and improve its records. The resource is the result of collaboration between national and state libraries and now contains records from over 900 partners – libraries, galleries, universities and the like. In total, it contains over 6 billion records of Australian culture, history, and research; from regional newspapers to publications from various migrant communities in their languages ​​(there are approximately one million articles in languages ​​other than English).
Around 11 million newspaper pages have been digitized. And not just digitized; While the clippings are first translated into readable text by a computer program alongside the original image, some of Trove's more than 300,000 volunteers read and correct computer or user errors. The National Library of Australia says that libraries from around the world, including the British Library, have consulted on how to similarly put their collections online.
The new website is cleaner and more user-friendly than the previous version. Now users can create their own profiles, create public or private lists of records, and collaborate with others on blogs. Indigenous Australians can also use the website to disguise images of the deceased and to mark culturally sensitive content.
The search for material in Trove is no different from the search in Google. The user enters a search term and can narrow his search by source type, publication period, publication, status, etc.
Unlike Google, which has become our standard portal for finding answers, Trove does not learn its users. The search results are not tailored to your own profile. My results are your results. We start at the same point, the same object of truth. At a time when our understanding of the world is increasingly fragmented and non-partisan, this type of resource reflects a knowledge community that connects us as Australians – a catalog of our own unique, tragic, and triumphal arc of history that we can see and see have. And we can dive in and pull out of it as part of this diverse but united community.
We can uncover tiny, centuries-old stories that predict our current misfortune, and we can say: We all know it now.
Source link