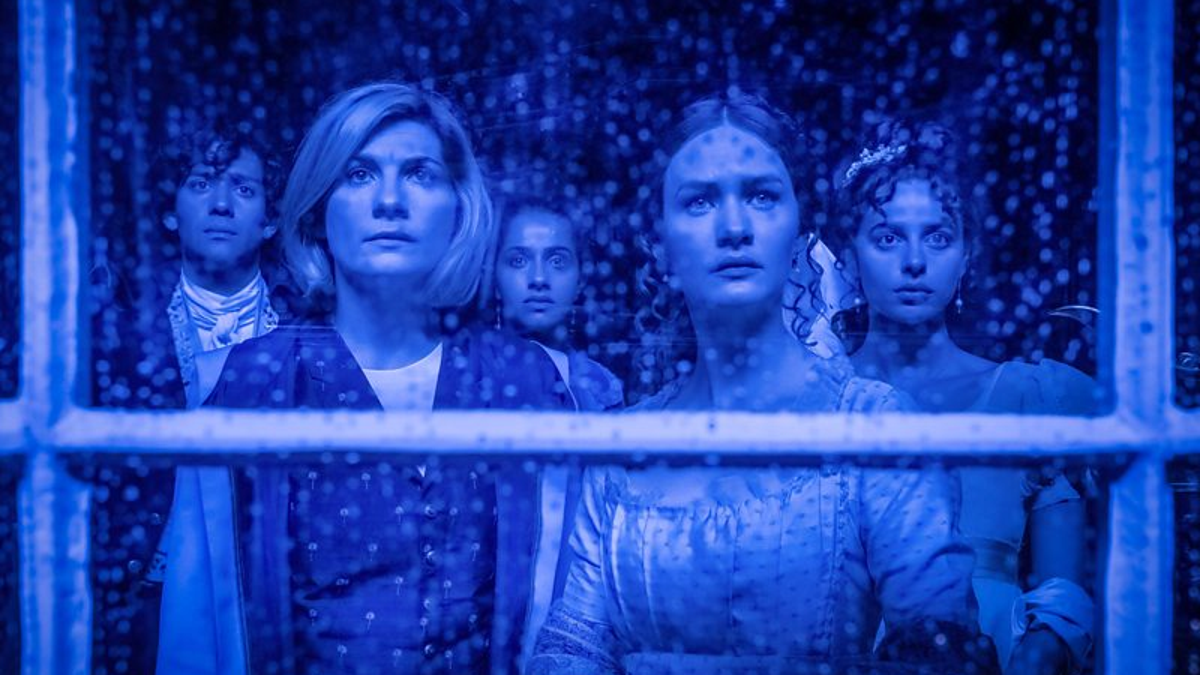 The last episodes of ] Doctor Who had slowly started to solve a persistent problem with this latest replay of the show: Too many people on the TARDIS console, resulting in narrative setups that took too long to get going or leave some of our heroes behind to really get there. Before the season finale, however, the show managed to find a way to really let this large crew work .
The answer to this in "The Haunting of Villa Diodati" included some things – first a classic threat and one good, old-fashioned creepiness. But it also worked mostly because Ryan, Yaz, Graham, and the doctor weren't spread across different storylines and isolated networks of supporting characters, but instead a pressure cooker made of drama was created by bringing them all together in a small room: Lord Gordon's title George Byron (Jacob Collins-Levy) on the alleged night that one of Byron's guests, Mary Wollstonecraft Godwin (Lili Miller), wrote the short story that Frankenstein was one of the earliest science fiction works in western canon of literature .
Even though, paradoxically, this room was large and volatile enough to keep the TARDIS team largely separated after it was quickly discovered that something was not quite right when a 19th century mansion kept unfolding together as if an Escher painting were brought to life. But this simple act – forcibly cutting off the doctor from her friends, not just to spread them all out on their own adventures – made "Haunting" an episode of escalating discomfort and horror that went hand in hand with its Gothic sensitivity to haunted houses. It wasn't so much about the doctor and her friends individually coming to their own conclusions about what the week's mysterious threat was (in this case, "Why the hell is this mansion folding in?") Before they came to a climax , as is the case with both "Praxeus" and "Can you hear me?" was the case. Instead, they all had to work together to solve the problem, although the pressure of their separation threatened to destroy the entire team.
A sustained feeling of fear permeates the entirety of The Episode, an overarching inevitability of horror that feels very appropriate when the true and familiar threat to the episode is ultimately revealed (More on that in a moment), but it's not just the horror of a creepy house at night that causes this fear in "Haunting." One of the more fascinating subplots in this season of Doctor Who was in good and bad ways as the master's shocking revelations about the destruction of Gallifrey did the thirteenth doctor on a dark path, in which she has increasingly grown in contradiction to her "family" of companions. It is the discomfort of this relationship that smoldered in "Haunting" as well as the creepy goings-on in Diodati.
From the moment they arrived at the Vill, Graham jokingly (but sparingly) warned the doctor to let you run through the storm to the property, to the parallels between Byron, Shelly, and her stepsister Claire (Nadia Parkes), who was behind the Exchange mask of pleasant, courtly dance with each other with their new guests. It is an episode that feels widespread with boiling tensions. Tensions that inevitably resolve when the Doctor, Ryan, Yaz and Graham are at fault, through no fault of their own, with the residents of Diodati about a building in which the hallways return to themselves and the walls do not look exactly as they do seem to be. Admittedly, they mostly dissolve at the end of the doctorate – because she's not only annoyed by the bad mood she feels in Diodati's false walls, but also by her friends' request to stay there and do what they were told ignore again and again and only get yourself It gets more and more lost in the changing landscape of the villa.
This pressure cooker of frustration finally explodes violently when the catalyst of Diodati's curvy structure is revealed. The house folds up as a defense mechanism because a Cyberman – the last Cyberman, as announced by Captain Jack earlier in the season – is trying to search for a strategic supercomputer that hid in Villa Diodati to prevent a bad future on the Internet. It's a moment that scares the doctor away, not only because she suddenly has to face up to this prophecy that has put the entire future of humanity at risk when all she wanted was a fun time to see how Frankenstein was written. But because in one of the smartest recalls to Doctor Who this season – one that was almost alarmingly loaded with them – Cybermen is again digging out trauma before their regeneration: the death of Bill Potts and their own transformation into a Cyberman.
It's a deeply heartbreaking scene that Jodie Whittaker delivers brilliantly. The doctor's frustration with her friends' willingness to face upside down meets the sudden spark of sadness that comes from confronting a damaged, partially converted Cyberman. Her fear and sadness when she declares that she will never lose anyone to Cybermen is palpable, but there is also a darkness that recalls this incarnation of the doctor's new preference for superiority. It's not just that the doctor doesn't want her friends to die, she reminds them that the only way to do that is to do what they were told damn well once.
It is an anger that comes to the fore when inevitably does not happen when the doctor discovers the location of the Cyberium supercomputer The Cyberman wants – actually biologically embedded in a captive and apparently dying Percy Bysshe Shelley, who used his skills to apply perceptual filters and protective measures in the villa as a defense measure. Since the doctor has a nightmare scenario in which he lets Shelley die before his time while the Cyberium infection is slowly killing him, or gives the Cyberman what he wants, and brings Jack's sign to life, it is Ryan who Makes mistakes to question them. What is the life of a single romantic poet against possibly all of humanity? It is not even the "needs of the many" arguments that Ryan tries to make clumsy that trigger the doctor – even though she insults Shelley's place as a poet rather than him A great scientist or political leader who influences his work on the world and not diminishing the generations beyond him is a great addition to Doctor Who who campaigns for the power of stories.
It is that at a moment when she herself increasingly recognizes the inevitability of defeat – regardless of what will happen, she will not be able to save everyone – someone, one of her closest friends, would become her authority again question. And again like in "Orphan 55" the mask falls and the doctor makes it very clear : Team TARDIS may be a team, but the doctor is on this team and she can decide who lives and who dies because she is smarter, more powerful, and more experienced than anyone else around her. And even her closest friends have to be reminded of this alien anger from time to time. This is not the twelfth doctor who angrily declares and passionately explains why he fights in "The Doctor Falls" or even the eleventh doctor proudly brags against his enemies in "The Pandorica Opens". It is the specter of Time Lord Victorious of arrogance that lingers deep beneath the surface of every incarnation of the doctor, whether they like it or not.