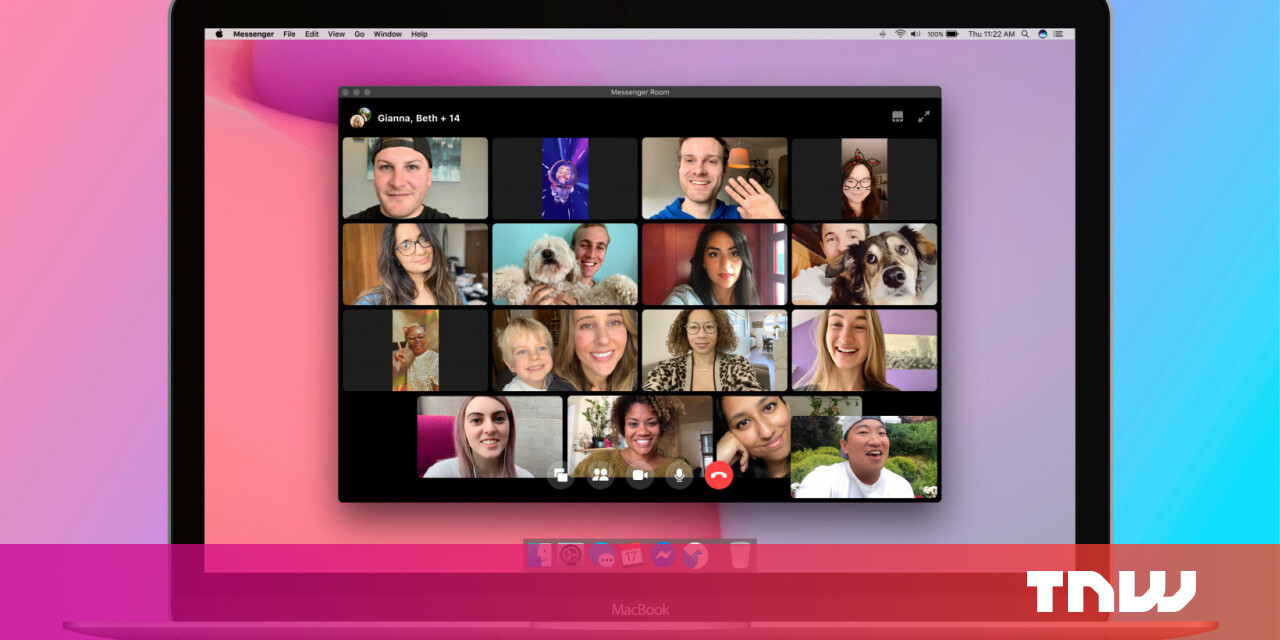 Messenger Rooms, Facebook's zoom competitor, which can support up to 50 people in a video call, is now available in the United States, Mexico, and Canada. "It will be available to everyone worldwide next week," said Mark Zuckerberg in a post on his Facebook profile.
Zuckerberg highlighted some of the differences between Messenger Rooms and existing video calling options. While regular messenger and WhatsApp "are already the world's most popular video call services", the number of these services is currently limited. WhatsApp just added the ability to make calls for eight people, but sometimes you just need more.
In the meantime, "most video services are designed for large groups for work rather than social interaction."
; Messenger Rooms can support up to 50 people without time limit. Zoom, on the other hand, supports up to 100 participants with its free level, but is limited to 40 minutes unless you purchase one of the paid plans.
In Messenger Rooms you can invite friends with a link, even if they don't have a Facebook account. You have the option of making calls privately, of course, but Facebook also differs in that you can display them at the top of your Facebook feed so everyone (or anyone your privacy settings allow) can participate.
In theory, this could make calls feel more like a spontaneous social gathering than something you have to actively plan. It could encourage people to join you. You haven't usually called alone, although you still have control over who the rooms appear to.
Use of messenger rooms
At the time of writing, messenger rooms in Messenger and Facebook are available on both the desktop and the mobile phone. However, Facebook states that you will soon be able to create spaces on Instagram and WhatsApp. To create a room, look for the video camera icon with a plus sign.
In Facebook, for example, it will appear directly in your feed:
In Messenger, it will appear in your chat list:
The standard behavior is different in each case. Rooms are public on Facebook by default – anyone who sees that you created one can join. However, you have the option to change this setting before your room under "Who is invited?" Menu.
From there, you can only invite certain people if you want. On Facebook, you can also set a specific time for commissioning rooms. This is useful if you want to plan meetups in advance.
With Messenger, the rooms are private. Only those you invite or send a link to can join. Here, too, anyone can join, even if they don't have a Facebook account.
The functions in the video calls are fairly simple, but cover the essentials. On mobile devices, you can use some AR effects, play games with other participants, and share your screen. On the desktop, you can currently only share your screen in addition to standard videos.
When Messenger Rooms were announced last month, Facebook said you could replace your a la zoom background. However, the additional flip of the background is 360-degree images that move when you reposition your camera. This feature doesn't seem to be fully active yet.
While not quite as powerful as Zoom, it's an easy-to-use alternative if you just want to start a video call with friends and family quickly. Since so many people already have Facebook and Messenger installed, the entry barrier is also lower.
Corona cover
Read our daily coverage of how the tech industry is responding to the coronavirus and subscribe to our weekly Coronavirus in Context newsletter.
For tips and tricks on working remotely, see our Growth Quarters articles here or follow us Twitter.