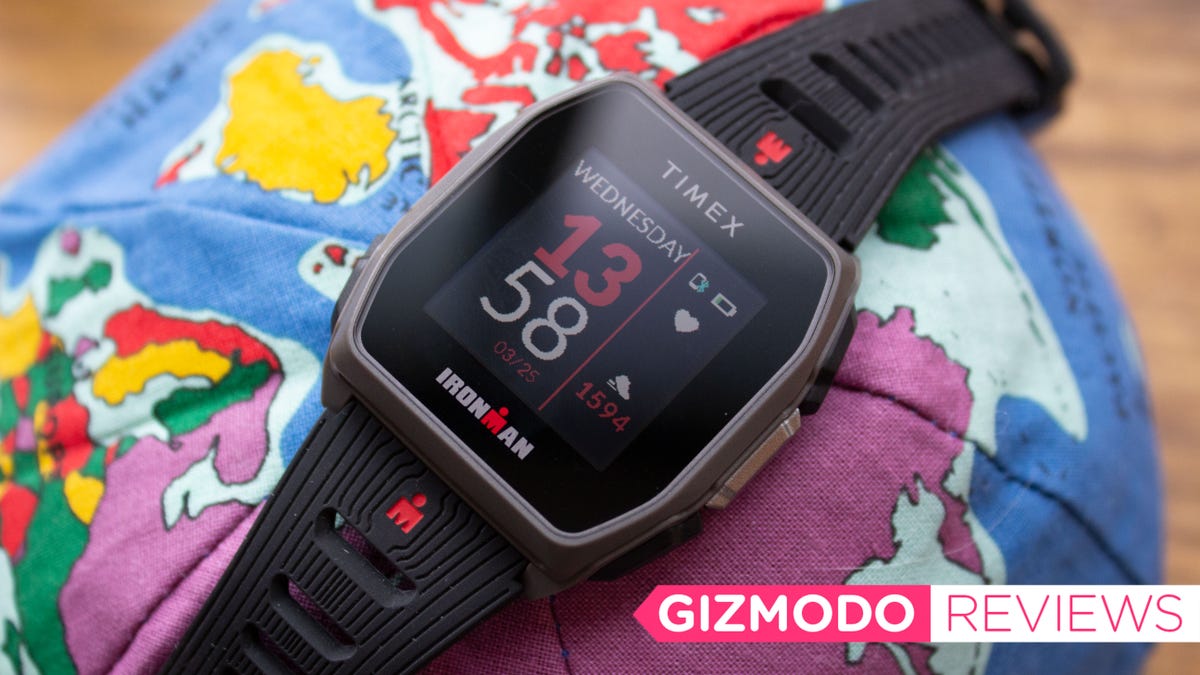 When Timex announced this earlier this year It was back in the smartwatch game to get in. I was a little baffled. . This is mainly because the new Ironman GPS R300 at first glance is much more like the type of smartwatch fitness tracker hybrid that was popular in 2016 than one Device you Relaunched a product line with in 2020.
It's not just that the Ironman GPS R300 looks retro. But I mean … t he bezels. You are gigantic! Then there is the interface, which is based on a mixture of buttons and swipes. The Timex app isn't the worst I've used, but the device itself isn't as fast as newer fitness trackers and smartwatches when syncing or installing wireless updates. Overall, however, the Ironman GPS R300 offers nothing that you have never seen in a GPS watch . It has push notifications limited coaching on the wrist, a transflective color touchscreen, music control, continuous heart rate monitoring and of course integrated GPS. It also tracks sleep. That's all on par with other fitness tracks . But call it a smartwatch? This is a bit lengthy. There are no NFC payments, no app store, no third-party app integrations, no voice assistant functions – basically the new Timex lacks most functions that you would expect from a smartwatch in 2020.
Timex Ironman GPS R300
What is this?
A running GPS smartwatch that feels more like a tracker.
Like
Monster battery life! Affordable. GPS tracking is accurate.
No like
beeps too loud. Doesn't offer anything that really stands out. Limited coaching opportunities. The user interface is a bit chunky.
I've been wearing the R300 for about two weeks and although I'm not a fan of the 1980s look it's light and comfortable enough for 24/7 wear. It does what it should when it comes to tracking workouts, even if the experience isn't the smoothest. But this is a fairly mediocre watch, even if it's quite affordable for $ 120. That's about $ 30 less than the Fitbit Charge 3 and $ 40 cheaper than the Fitbit Versa Lite two comparable alternatives to the R300.
Anthropologie's Extra 50% Off Weekend Sale Starts Now
But one thing really stands out about the R300: battery life. In his announcement, Timex said that this thing with a charge with any function enabled would take about 25 days and 20 hours with continuous GPS. At first that sounded too good to be true. But my test device came with a 55 percent battery, and I didn't charge it in about two weeks. I still have 29 percent left. Admittedly, I am not quite as active as pre-social distancing and for this reason I have deactivated continuous heart rate monitoring outside of training. Nevertheless, I have been using GPS for at least 30 minutes per day for 15 days in a row. No matter how you slice it, the battery life of this thing is impressive.
While some people reduce the long battery life, in my experience it is an important factor for whether someone is likely to stay with a wearable for a long time . The less often you need to charge, the more likely you are to hold the device on your wrist, which means that over time you will get a better picture of your activity . I often forget that I am on the R300, and although I personally think that is an eyesore, it is less likely that I will forget sitting on my bedside table when I have a busy morning have. I prefer to take off wearables before hopping in the shower, but the R300 is waterproof up to 50 meters, so you really don't have to
apart from the battery life the R300 also closely track GPS during your activities – also although there is a limitation. The watch takes some time to find a GPS signal compared to your phone or other wearables I've tested. It's not too important, but I've found that when I try to start a workout and just stay in place, the watch doesn't pick up a signal. Conversely, when I started running or running, I heard a beep about half a block later, informing me of this. During the test, I once or twice forgot to press the middle button on the right side of the watch to start training as soon as I received this confirmation tone. This is frustrating and I think it could be prevented with a more sophisticated surface.
But I found the influence of GPS Delay on the recorded total route or on my individual Mileage splits negligible. In the worst case, the watch was underreported by a few hundredths of a mile. For example, a 3.13 mile run on my phone was logged as 3.1 miles on the R300. Likewise, a 2.13-mile walk on my Apple Watch Series 5 was logged by the Timex as 2.08 miles. If you are aware of this delay and remember to press this record button, you will get more accurate results than if I skipped GPS tracking . In test runs where I was too impatient to wait for GPS and refrained from my results were far away. The watch recorded 3.4 miles as 2 miles on my phone, which is not worth recording at this time. When running without GPS, I was able to edit the distance at the end but this is not helpful for people who want to run without a phone.
Technically, you can without a phone, but only if you like to run in silence. You can control music from your wrist, but there's no real way to load offline playlists or pair Bluetooth headphones. You can also download coaching workouts to the device with the app – a mechanism that I actually like, but the options available are limited and require more futzing to customize than I would prefer.
Heart rate monitoring was accurate during training and varied from my Polar H10 chest strap by at most about 5 beats per minute – n not too shabby. Monitoring sleep was also pretty accurate when it came to recording sleep time when I fell asleep, and when I woke up. However, I was a little amazed by the arbitrary notes that the watch had assigned me. One night my cat decided to whine at 5 a.m. for no good reason. m. the app told me that in the end I lost more than 2 hours and 12 minutes of sleep – but still gave me a score of 92.
Another thing that I found annoying was connectivity. S Yncing and over-the-air updates with the R300 feeling compared to some other smartwatches. It lasts longer than it should, similar to older Polars and Garmins from a few years ago. These synchronization problems extended to notifications. Occasionally I looked down and found that my watch had lost the Bluetooth connection to my phone. While getting reliable notifications from my Apple Watch, I missed the Timex for hours until I reconnected. Not everyone will view this as negative – Lord knows that last week I was really grateful that I missed news reports when notifications triggered my fears. However, if you want to display all all notifications – apps, calls, texts, emails and even disconnections from your phone – you have to activate them manually. I liked that you could choose from which apps you received notifications about the Timex Smart app, but the list to choose from wasn't what I would call comprehensive. Slack, for example, was only available as part of a "Other Apps" blanket option.
I finally disabled Timex notifications for a completely different reason. Every time you get one, the watch beeps loudly and doesn't just vibrate loudly. It's usually okay to work from home, but I found it annoying when I was on a video call or in the zone while blogging. Navigating the settings in the Timex app is not difficult, but I did not find any options for switching off the sound under Notifications. Even if I could, the vibrations of this watch are definitely audible compared to other smartwatches and fitness trackers I've tested.
Overall, the Timex GPS R300 could be much worse. I'm just not sure what the piece is here. The trend lately has been fitness, full-featured smartwatches, and more stylish hybrids for people looking for more leisure activities – tracking. Yes, the Timex is cheaper than some of its competitors, but it's really only worth it if you want integrated GPS. What, to be fair, some people do! But what you sacrifice for it is a more comprehensive app, a stylish design, and third-party integrations. If you are only a runner and are looking for a basic clock with exact integrated GPS, Timex is solid and cheap . For everyone else there are better options . READ:
The battery life of this thing is insane.
GPS accuracy is good, although you will get some delay before picking up a signal.
Other wellness functions are fine, but nothing that really stands out.
The beeps and vibrations are too loud! The app feels like it was from 2016.
Boy, it's ugly.
It is available at competitive prices compared to competitors, but only worth it if you are a runner who is looking for integrated GPS cheaply.
Source link