The Galaxy S20 FE is so good for the asking price that both the Galaxy S20 and the Galaxy S20 + appear insanely overpriced in comparison. And Samsung India may be aware of this and try to move some units of the Galaxy S20 + before the Galaxy S20 FE steals all the limelight. That seems like the only reason the Galaxy S20 + is currently being discounted by a whopping 40% in the country. This is perhaps the most attractive offer the company has ever made in the world's largest democracy.
Right now, you can pick up the Galaxy S20 + for Rs 49,999 from the Samsung official website and through Flipkart. That's the same price that the Galaxy S20 FE retails for, and while the S20 FE is a fantastic phone, the S20 + is still the better-equipped option for that money. While the two phones are the same in many specs, the Galaxy S20 + gives you a bigger and brighter 1
20Hz display with Gorilla Glass 6 protection (the S20 FE has Gorilla Glass 3), a better selfie camera, and a 25 -W quick charger in the box together with the high-end AKG headphones from Samsung (the FE is delivered without headphones and has a 15 W charger in the box).
The Galaxy S20 + (together with the S20 and S20 Ultra) should also have the upper hand when it comes to software updates. The Galaxy S20 FE is expected to receive three Android operating system upgrades, but it is not included in Samsung's Android 11-based One UI 3.0 beta program. This is a good indication that it won't be getting as soon as the original three updates on the Galaxy S20 models. This also applies to the Galaxy S10 Lite, which is technically part of the Galaxy S10 product line, but receives major and minor software updates a few weeks (sometimes a few months) later.
While the Galaxy S20 FE offers unbeatable value at retail price, the discount for the Galaxy S20 + on Samsung India's website is just too good to miss if you're looking for a new flagship and you're on a Rs 50,000 budget . Click the links below to order yours before the deal expires!
Galaxy S20 + review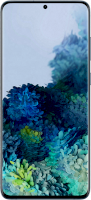 Model:

SM-G985F

Dimensions:

Beam: 161.9 x 73.7 x 7.8 mm

Display:

170.18 mm Dynamic AMOLED 2X

CENTRAL PROCESSOR:

Exynos 990

Camera:

12MP