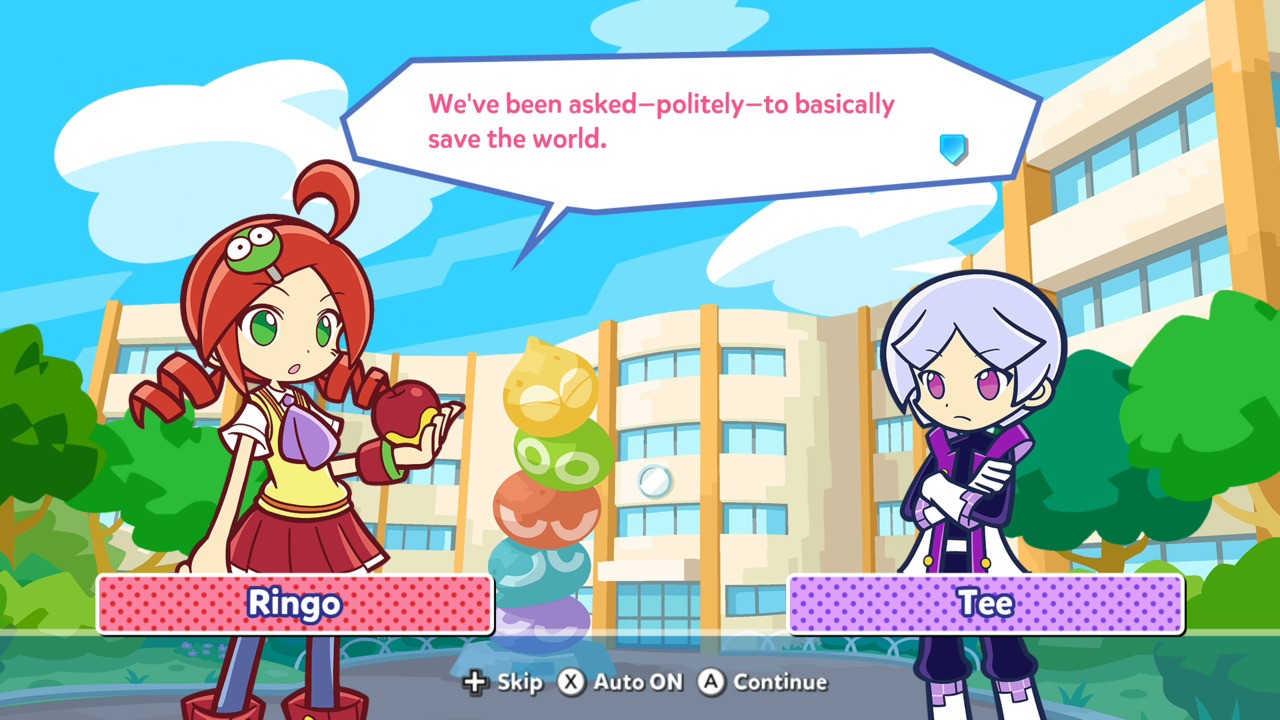 Sega gave us our first look at the history and adventure mode of Puyo Puyo Tetris 2destined for Nintendo Switch this December.
The game's Adventure mode was first tested during its reveal at the Nintendo Direct Mini: Partner Showcase in August. We have been told that soon we will be able to "traverse space and dimensions never seen before in a new story, with a colorful cast of cute characters who bring the power of Tetriminos and Puyos to life".
A detailed official description and function list has now been published, giving us a lot more information about what to expect. Read:
Reuniting with Ringo, tea and a lovable cast of returning and new characters Puyo Puyo Tetris for a new trip! The worlds of Puyo Puyo and Tetris have come together thanks to a mysteriously powerful being known as the Dimensional Parasite. Faced with this threat, Ringo, Tee, and friends must traverse the world to pop puyos and clear out Tetriminos to save their friends from dark corruption. But they will quickly learn that there is more to their search than meets the eye when confronting the dimensional parasite, with new secrets and clues to discover on their way out of this world.
As a reunion of two puzzle legends Puyo Puyo Tetris 2 features a brand new story that brings together the game̵

7;s vibrant cast and different game modes for players to explore. With a new overworld map for navigation, new special mission conditions and a progression system during the new skill battles, the adventure mode adds a whole new depth to the game's campaign.
New features in adventure mode:
– Overworld: Navigate branched paths and optional levels from level to level in a new overworld map, and play the levels freely for higher scores and better rewards! A separate context menu allows players to quickly access levels, review the overall progress of the stars and much more!

– Skill Battles: Adventure mode allows players to use their preferred play style in Skill Battles, earn EXP to improve character stats, and experiment with different difficulty levels depending on the strength of the team! After practicing in Adventure Mode, players can bring their highly competitive finesse and ingenuity to Skill Battle Mode, a new separate mode in Puyo Puyo Tetris 2.
– Unlockable: Players unlock item cards that offer special abilities and options in skill combat, the key to winning games in the new skill battle mode. New playable characters, backgrounds, bonus levels and more can be unlocked by players as they progress through Adventure Mode while they earn credits that they can spend on even cooler things in the in-game shop!
In addition, it was announced that players who purchase the Puyo Puyo Tetris 2 Launch Edition will receive some additional bonuses. This special edition can be pre-ordered from Switch for $ 39.99 and includes a pack of eight rare in-game item cards, including three special cards featuring items from the Sonic the Hedgehog series.
Towards the end of last month, it was also announced that the game would feature co-op boss raids.
Source link