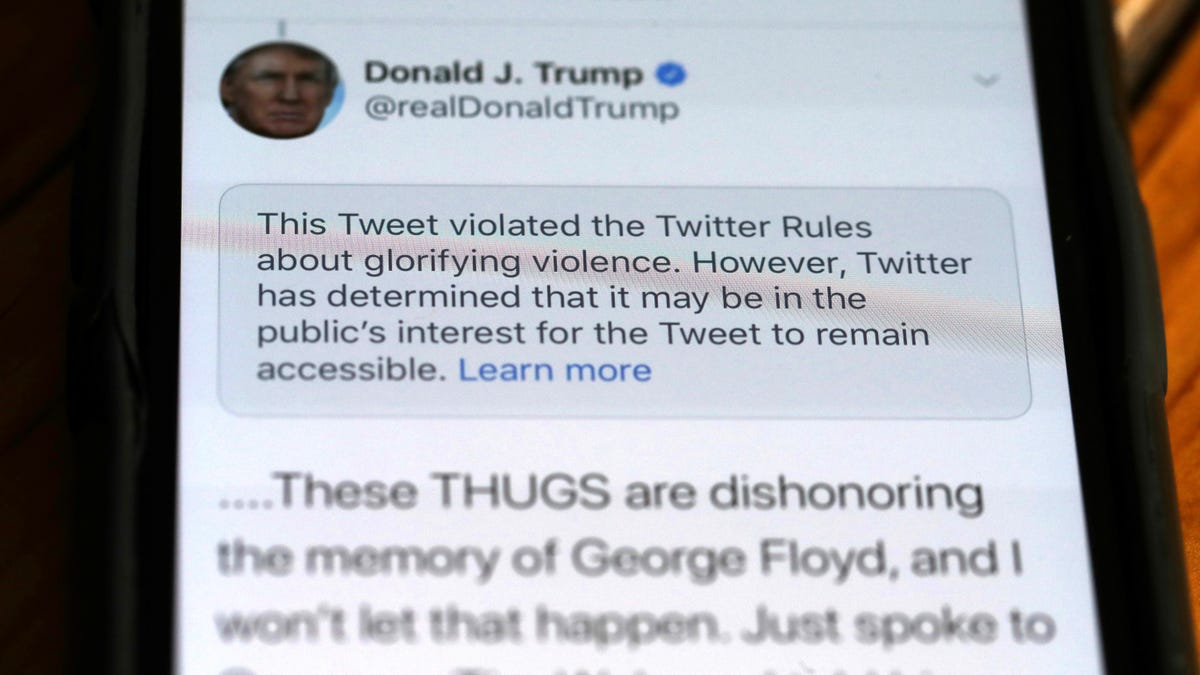 The Trump administration, home to some of the most famous voices that the wolf cries about allegedly politically biased online censorshipcalls on some of the biggest names in technology and social media to act against the way users report ongoing protests against racial justice.
As first reported by The Washington PostThis week, Acting Secretary of the Department of Homeland Security, Chad Wolf, sent letters to CEOs of Facebook, Twitter, Snap, Apple and Google's parent company Alphabet, asking them to take action against posts that encourage demonstrators to use violence, break curfews or tear down curfews Statues representing white supremacy.
in the a copy one of these letters shared by the edgeWolf condemns platforms for their lack of censorship on this type of content (of which he gives no examples). He argues that while the first constitutional amendment protects freedom of expression, "the power of social media can also serve as a weapon to sustain criminal activity," and the inactivity of Facebook, Twitter, and the like has contributed to "burglary, Arson, aggravated attacks "to allow turmoil, looting and defacing public property" amid nationwide protests.
Of course, it is unclear which contributions Wolf refers to, since his letter does not contain any. One of the most well-known topics of online censorship in recent weeks has been the so-called "Boogaloo" movement, a loosely coordinated group of right-wing extremists based on the idea that America is going into a second civil war. After several posts in "Boogaloo" groups, members urged them to take up arms and otherwise cause peaceful protests, Facebook, to crash almost 200 accounts deleted associated with the movement and has stopped promoting Facebook groups combined with such violent calls for action.
G / O Media can receive a commission
But something tells me that Wolf has not been referring to it since the idea of ​​violence right wing Extremists who cause trouble do not fit into the narrative of the "Antifa" Boogeyman spun by conservative media and in a broader sense by President Donald Trump himself.
"After George Floyd's death, America faced an unprecedented threat from violent extremists trying to co-opt the tragedy of his death for illegal purposes," he continued. "In the Department of Homeland Security, we are committed to protecting the American people, our homeland, and our values. This includes protecting our First Amendment rights while protecting the security of our citizens, law enforcement officers, and our property."
It should be noted that Wolf does not mention Trump's controversial post in these letters, in which he encouraged a violent military response to demonstrators through proclamation "When the looting begins, the shootout begins. Ironically, this post did They violated Twitter's policy of glorifying violence and were quickly reported with a warning.
Facebook's decision to maintain the President's post for reasons of public interest triggered a wave of criticism, including from within the company itself, which resulted in multiple advertisers starting up their business (at least partially) from the platform. The company has since resigned difficult with CEO Mark Zuckerberg says Friday that Facebook is beginning to put labels or remove posts from public figures who violate its rules.
As these letters are more of a general call to action than an announcement of an official lawsuit, it is uncertain what action these platforms might take. However, this is the recent escalation of the government's attempt to curb online speech that the president is not interested in, while at the same time scolding how social media platforms silence right-wing voices. Trump in late May signed an executive order Commissioned by the Federal Communications Commission to investigate whether technology companies censor, harass, and outlaw conservatives, although previous research has found insufficient evidence to support this conspiracy theory.
Source link