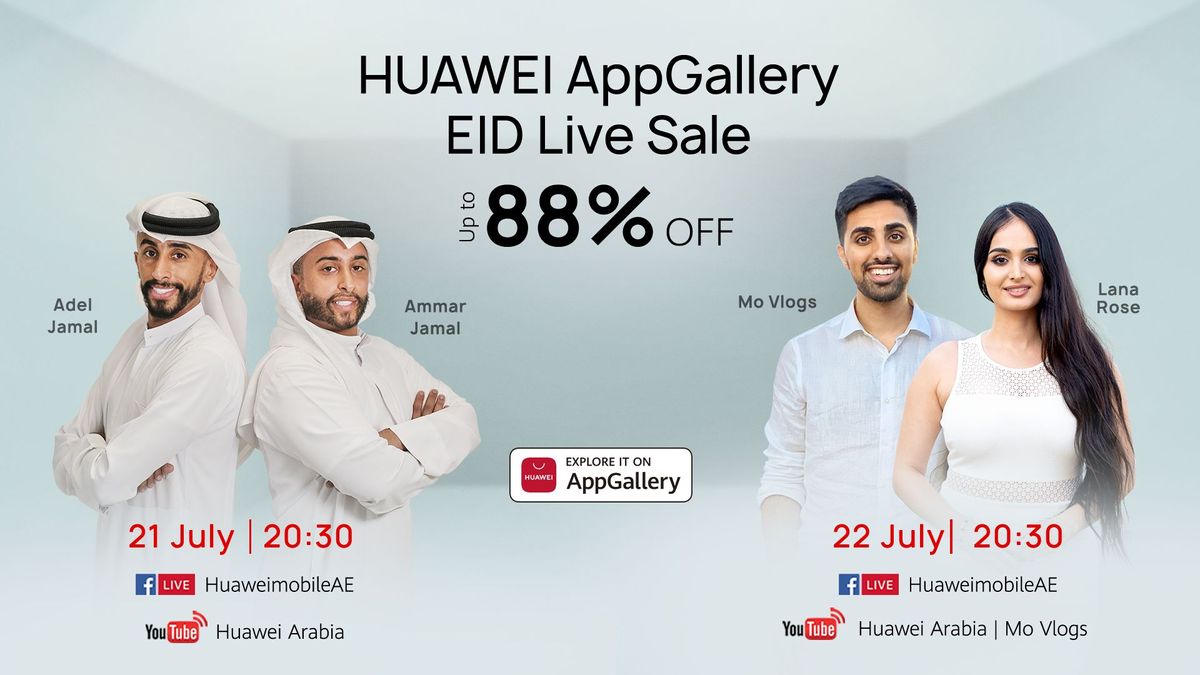 Would you like to buy a Huawei product in the near future? You may want to wait.
After the incredible success of their first digital live sale event and as part of their commitment to engaging with local consumers by providing new experiences, Huawei has released the next edition of its livestream consumer event for consumers in the UAE, the Huawei Eid app Gallery live sale.
The livestream will be broadcast on the official Facebook and YouTube channels of Huawei Arabia on Tuesday, July 21, from 8:30 p.m. on Wednesday, July 21, and on the official Facebook and YouTube channels of Huawei on Wednesday, July 22, from 8:30 p.m. Arabia and on Mo Vlogs̵
7; YouTube channels.
If you tune in to the live stream, you can also take advantage of various offers, including limited-time offers and massive flash sales with discounts of up to 88%, all of which make your home comfortable.
The live sale also offers the exclusive first purchase of Huawei's latest 5G flagship, the trendy Huawei Nova 7 5G with a free Huawei Watch GT gift package.
You can also interact with various hosts of the event, including popular soccer player Adel Jamal and his brother Ammar Jamal on July 21, and celebrity vloggers MoVlogs and Lana Rose on July 22.
During the live stream of HUAWEI AppGallery Eid Live Sale, Huawei offers consumers in the UAE the opportunity to make great deals:
• • Massive flash sale including purchase of all 3 for only 999AED: HUAWEI MatePro 5G, HUAWEI Sound X and HUAWEI P40 Pro + / 5G and more
• • Exclusive launch offer of the new trendy 5G flagship: HUAWEI Nova 7 5G for AED 1,799 with a free gift from a HUAWEI Watch GT
• • Great offers that you can't miss including HUAWEI Mate30 Pro 5G for a live retail price of AED 2,399 (original price AED 3,899) and more
• • Buy more and save more with an additional discount of up to AED 600 when purchasing more:
Spend AED 1,000 and receive AED 50
• Spend AED 2,000 and receive AED 200
Spend AED 5,000 and receive AED 600
Win Free Prizes Share and comment on live streams to win prizes
Source link