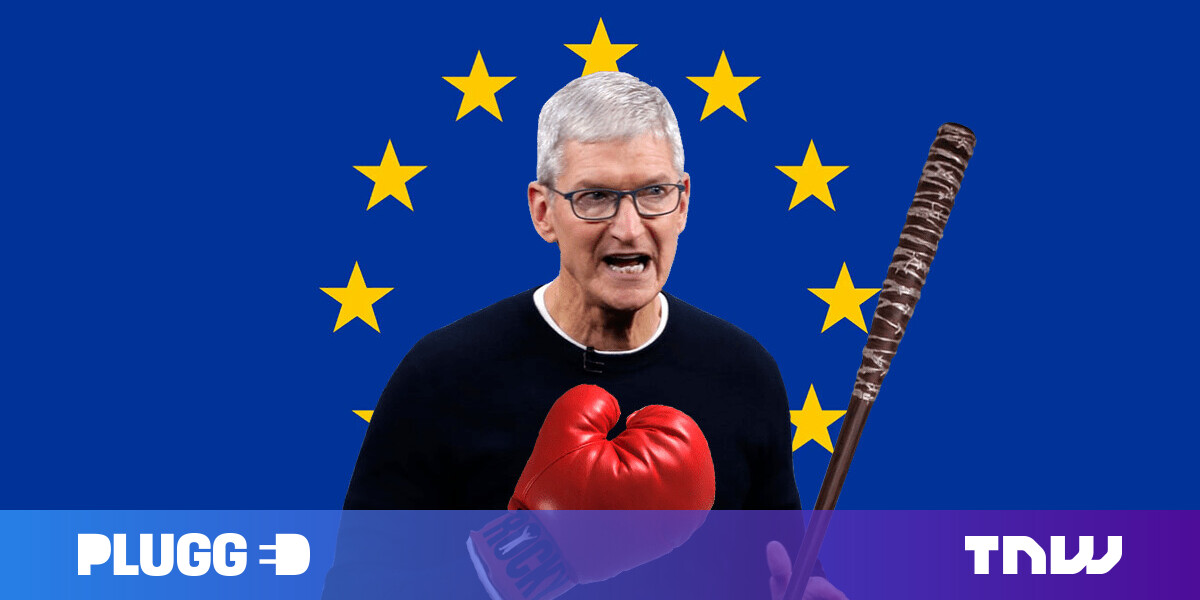 It looks like the day is getting closer: Apple and the EU will go to the parking lot, undress to the waist and engage in a good, old-fashioned fist fight.
Instead of this time it's about boring things like "paying the reasonable taxes" or "the right to get my damn phone fixed". It's about something much more important, much more important: charging cable for mobile phones. In particular, Apple's Lightning Connector.
This issue has been around for some time, but a leaked report released today by the FT confirmed that the European Commission will call for the creation of a common EU smartphone charger "in the third quarter of 201
9.
[Read this, friend: The single glass sheet iMac patent gives me hope Apple will focus on design again]
Since most major smart phone manufacturers already use USB-C ports, this can be viewed as an attack on Apple and its Lightning connector.
And you know what? Much of that stupid reasoning is shit.
So why does the EU want to crack the Lightning connector on a bloody pulp and standardize phone chargers?
There are two main reasons. The first is to make people's lives easier. This means that it is easier to find charging cables and you don't have to carry as many around with you. Definitely what I would call a good thing.
The second is environment. The EU believes that people with a single cable for phones cause less waste overall – another good thing.
Both points make sense to some extent, and as a user of Apple and Android devices, it would make my life easier. So far everything seems to be fine, right?
And what does Apple think of it?
You accepted the opportunity to be forced to drop the Lightning connector with grace, decency, and goodness. t keep this go.
Apple is pretty angry.
A statement released by the company last week said that the move by the EU "[stifle] innovation" and "would harm consumers in Europe and the economy." as a whole. "Then it is pointed out that there are more than a billion Apple devices with Lightning connectors in the wild. They are doing exactly the opposite of what the EU wants.
I can see again where Apple comes from. What will happen to the more than one billion Lightning connection cables?
The innovation point of view is also interesting. What if a company designs a connection type that enables faster data transfer than USB-C? Something that is more versatile? Or has different uses? I mean, it seems unlikely, but it is possible. This step would effectively end this opportunity.
So … who should we support?
To be honest, neither. Both are wrong. And both suck.
Let's start with the EU. Here is a question: Is anyone really interested in the standardization of charging cables?
Yes, that would have been amazing about a decade ago, but nowadays most phone manufacturers only use three charging ports. Most phone manufacturers use USB-C. Some others use micro USB. And Apple uses the Lightning connector.
This is really not an urgent problem. In fact, I would be much happier if the EU did more to lower the cost of screen replacement, for example, or to encourage companies to keep their devices working longer (AKA is removing all traces of the planned aging). I admire their energy trying to make the world a better place, but there are more important things that the EU has to focus on. This feels a little bit like personal revenge.
But don't be convinced that I'm a fan of Apple's approach.
The Lightning connector is just a money earner. No more, no less. Apple makes a ton of money selling things like cables, accessories, and headphone adapters. The reason Apple is so pissy is that this move would lose millions and millions of third-party accessories and cable providers.
And does anyone really think Apple cares about the environment? Sure, the people who have to throw away their old Lightning connection cables may have some influence, but the fact that the batteries in the iPhones are not easily replaceable is a much bigger one.
Ultimately, the EU is tempted to help the ordinary person to gain the advantage in this struggle, but still… meh. No party comes out particularly well or comes into contact with the public. But I think that's what modern life is: watching big organizations get involved in stupid battles and forcing us to decide which of them is less shit.
Really, a golden age Hardware news and reviews follow on Plugged
Twitter and
Flipboard.

Published on January 28, 2020 – 13:52 UTC