The Galaxy Z Fold 2, which was detailed earlier this month, has a new and improved foldable screen. Not only is it bigger than the Galaxy Fold's screen, but it also offers better screen protection. Now, Samsung Display, Samsung's display maker, has announced that its new-generation foldable OLED panel has the world's smallest curvature.
According to Samsung Display, the curvature of the new OLED panel is only 1.4 R. Its curvature is the lowest among all curved displays commercialized to date. The company has managed to reduce the curvature even further using proprietary technologies to optimize foldable displays. It is a 7.6-inch OLED panel with a resolution of 2208 × 1768 pixels, which is covered by Ultra Thin Glass (UTG).
When a display folds, its outer layer experiences contraction stress while the inner layer experiences tensile stress. This collective stress is known as the "folding stress"
; and can affect the overall structure of the display panel. Less curvature results in higher tension, so displays that fold inward will experience higher tension than displays that fold outward. To minimize the stress on folding, Samsung used special materials for the display, panel design, and module assembly to act as a cushion when the screen is folded.
The new foldable OLED panel on the Galaxy Z Fold 2 has a folding area that is 1.7 times the folding area of ​​the Galaxy Z Flip. According to Samsung, the new display can be folded up to 200,000 times, which means it can easily last for more than five years. The Switzerland-based test company SGS (Société Générale de Surveillance) received the "Eye Care Display" certification because the blue light emission is the lowest in the industry at just 6.5%.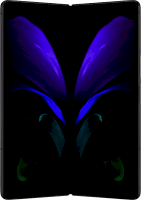 Model:

SM-F916B

Dimensions:

Folded: 159.2 x 68.0 x 16.8 mm
Unfolded: 159.2 x 128.2 x 6.9 mm

Display:

193.04 mm Dynamic AMOLED 2X

CENTRAL PROCESSOR:

Snapdragon 865+

Camera:

12MP