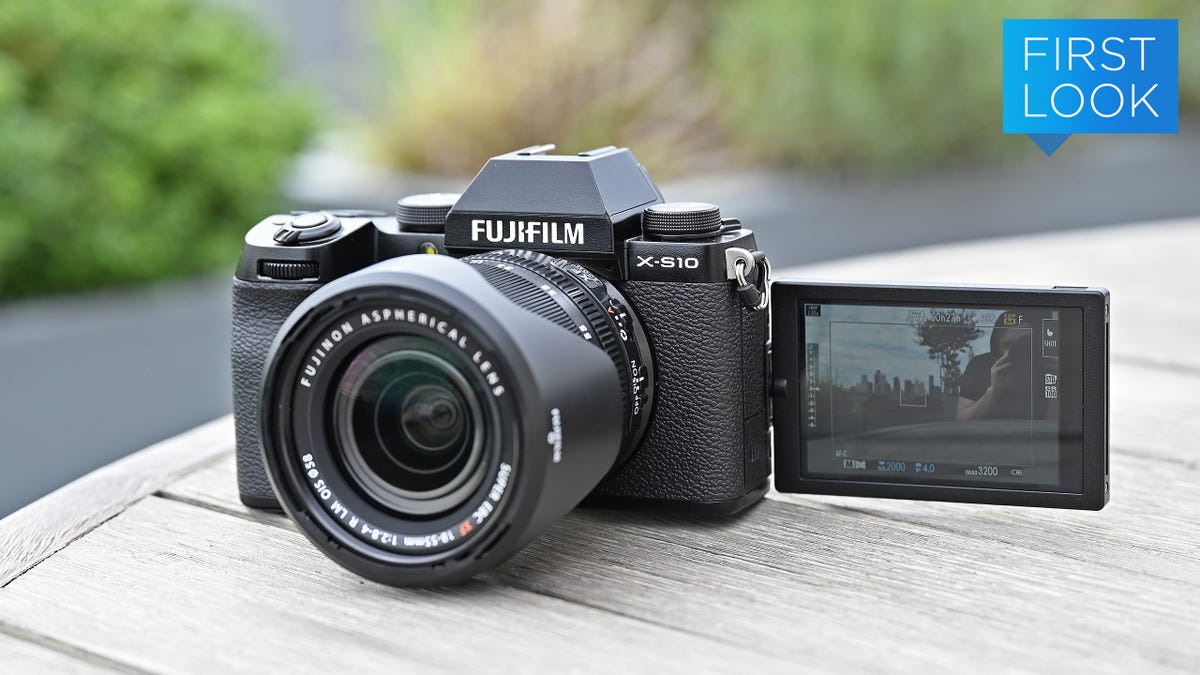 Fujifilms X-T4 is one of the best Micro Four Thirds cameras on the market. For people just getting into photography, Fujifilm's old dial layout can be a little intimidating. With the new X-S10, Fujifilm took the courage of the X-T4 and packed it into an even lighter and more compact, beginner-friendly body.
I know that for many older photographers and die-hard Fujifilm, the idea of ​​messing with the company's traditional dial arrangement seems like an abomination. By swapping dedicated dials for ISO, shutter speed, and exposure compensation for a single-mode dial and command wheels on the front and rear, Fujifilm has created a camera that may be easier to use and that works more like cameras from Canon and Nikon, and others. So the X-S10 is about attracting new buyers who Fujifilm usually fired because they're a little too steeped in tradition.
Inside, the X-S10 offers basically the same performance as its larger and more expensive sibling, despite its weight of 20% less than the X-T4 (1.16 pounds versus 0.91 pounds without batteries). That means you get the same 26.1 MP sensor, the same X-Processor 4 image processing engine, support for video recording at up to 4K / 30fps, and most importantly, five-axis image stabilization in the body with up to six stops of shake reduction.
G / O Media can receive a commission
The IBIS of the X-S10 is pretty impressive, as Fujifilm had to downsize the system by about 30% compared to the X-T4 just by fitting it into the X-S10's much smaller case (which still has a pronounced and comfortable grip) .
Thankfully, Fujifilm doesn't have too much in common with the rest of the X-S10 as the camera still includes a tiny joystick on the back (I really wish Fujifilm would make their joysticks a little bigger and less thick), a range of programmable ones Buttons and a handy 3-inch variable angle touch screen that makes it easy to capture whether you're taking still pictures or trying to record videos. Of course, you also get the usual range of classic film simulations from Fujifilm with 18 different effects to choose from, including Velvia, Acros, Classic Chrome and more.
When I got the chance to test out an early sample unit and snap some shots around town, I really appreciated how hard Fujifilm worked to make the X-S10 light and compact. Even compared to the X-T4, which is by no means a large camera, the X-S10 is so easy to carry around. I also really like how Fujifilm re-used a film advance lever on the left side of the camera to control the X-S10's pop-up flash.
The serial recording speeds of the X-S10 are also quite decent: the camera can record up to 8 images per second with its mechanical shutter or up to 30 images per second with its electronic shutter. The autofocus performance also felt very snappy. The X-S10 supports both face and eye tracking. For anyone intimidated by the thought of putting the camera in manual mode, the X-S10 offers a variety of programming modes, including standard shutter and aperture priority, four adjustable settings, fully automatic and a special film mode (with the X-S10 ) (also with a special video record button) and even an entertaining filter mode with completely different effects than the film simulations from Fujifilm.
While the X-S10 might not be a good choice as my main camera for workhorses, the size and feature combination makes it a great choice for travelers or beginners who don't want to lug around a big and heavy full-screen cam. And it's not too expensive with the X-S10 starting at just $ 1,000 (body only) or as a kit for $ 1,400 or $ 1,500 with an 18-55mm or 16-80mm lens to be someone's first major upgrade from a smartphone.
The Fujifilm X-S10 will go on sale in November.
Source link