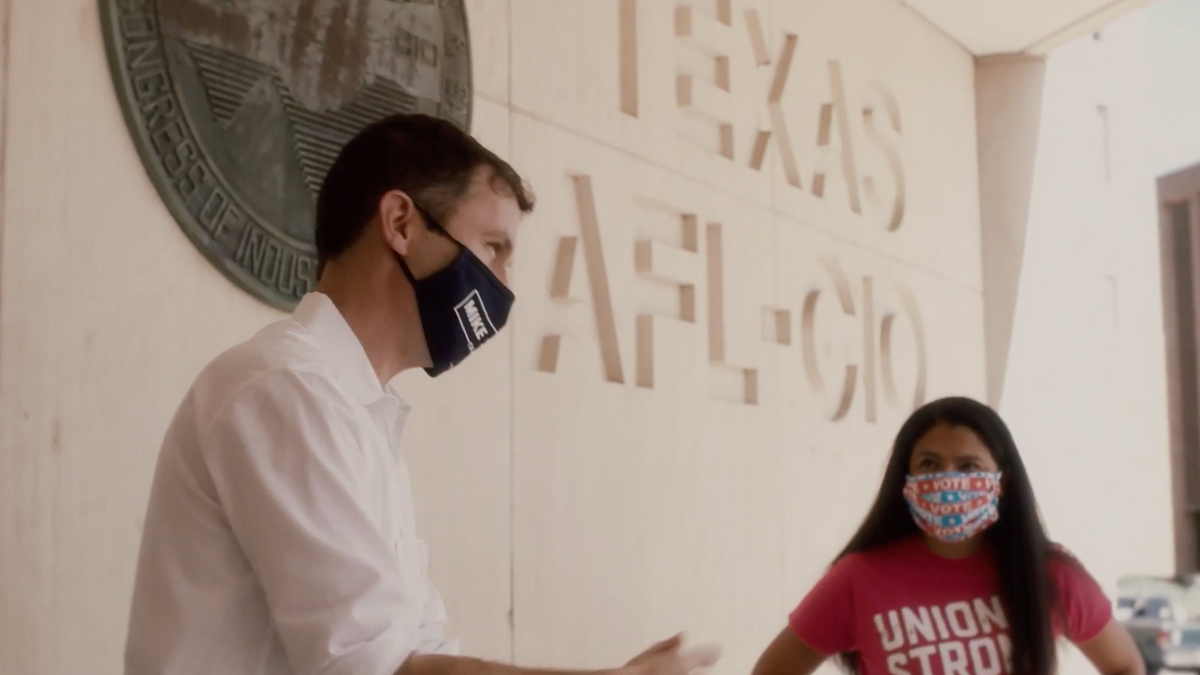 Texas, trade unions and a Green New Deal are three ideas that on the surface seem incompatible. But dig deeper and it will be clear that it doesn't.
In fact, a home race in Texas could be the template showing how progressive climate policy and trade union organization can merge. Teacher and union organizer Mike Siegel tries to get Republican MP Mike McCaul, one of the richest members of Congress, off the field. The district is rated as "Lean Republican" So, according to the Cook Political Report, Siegel has no chance of winning in any way. But it's a tantalizing look at how the new climate movement is shifting the narrative from the false premise of jobs versus climate to one of shared prosperity and building a new world together.
The Sunrise Movement published an ad this week for Siegel that it endorsed. How it is previous viral ad To Senator Ed Markey, the Senate sponsor of the Green New Deal, the first to beat a Kennedy in a state-wide race in Massachusetts, it looks and feels light years away from previous climate campaigns. Contextless chimneys and middle-distance people enjoying nature with the platitudes of politicians are outside. Workers, justice and shit are in.
The Markey ad featured the Senator explaining how he did the aforementioned shit and featured several young adults including a fisherman in a Green New Deal t-shirt doing the trapped progressive hearts though I never said a word The new Sunrise ad for Siegel is told not by the candidate, but by Ryan Pollock, an electrician from IBEW Local 520 and got the Texas AFL-CIO to endorse a version of a Green New Deal he introduced himself last year. The message is not about clean air and clean water. It is about the need for a just transition for workers in fossil fuel-affected industries and about the unions' setting their own terms.
G / O Media can receive a commission
"This election is about sending your own to bring our vision of a Green New Deal to Congress," says Pollock as the ad reaches a crescendo. "And to create good union jobs so we can build a more stable future for ourselves and our loved ones. We are here at exactly the right moment to build our America. "
Earther spoke to Pollock about the ad why it is so important to get a union member to Congress at this moment, and what work the climate movement still needs to do to build a new coalition bringing trade workers from all backgrounds to the table. This interview has been edited for length and clarity.
---
Brian Kahn, Earther: Why did you choose to appear in Mike Siegel's Sunrise ad?
Ryan Pollock: He might be one of the most work-friendly members of the house if he wins. IBEW 520 and Austin Central Labor Council were great early supporters of his. He maintained a relationship with IBEW 520. We know him. He shows up all the time and doesn't dictate what the terms are and what he's going to fight for. He asks us, this is important to us. The Green New Deal – which it will likely be one of the most vocal advocates for – will create a tremendous amount of jobs for us too. This would be incredibly beneficial to both us and the rest of the construction industry in central Texas. It's not just about jobs, it's about emphasizing the union movement. And we urgently need that now.
Continue: What has the climate movement misunderstood about the labor movement? Why didn't you fill this gap and is there an ingredient missing?
Pollock: The missing ingredient was a fair transition. When fossil fuels like a coal-fired power station shut down, they have failed to consider what these workers are going to do now to make a living. This has been the approach of environmental groups for decades. Capital has used this against these environmental groups to drive a wedge between workers and decarbonization. And so we are both now beginning to realize that workers will not be able to move into this new industry without environmental groups, and that environmental groups cannot achieve decarbonization without work.
Continue: What has changed in the last years?
Pollock: I basically think this movement that has built up over the past two years. I'm not sure how to describe it any other than a more socialist movement linked to both work and environmental protection and general justice. People realize how ubiquitous injustices are in our lives. It's everywhere we look, including our workplaces, including the neighborhoods we live in, who is and who isn't exposed to toxic chemicals. People realize that all of these things are related. We can't just get health justice without working on all of these other things. And we cannot achieve environmental justice if we do not also deal with criminal justice. Now we see these things as one coherent thing that we must eventually do all at once.
Continue: In terms of the organization on the ground, what must be done next to move this forward?
Pollock: Education about membership of organizations, especially in work. About 90% of oil and gas workers have not even heard of a just transition. And it becomes very clear that most workers don't know what the Green New Deal is. Reactionary news outlets are really good at spreading misinformation, and other news outlets are doing a really terrible job of correcting that and actually getting it out on what the Green New Deal is about. You're focusing more on a horse racing approach to making those ideas a reality. You don't break down why we need this and what it does and what it really means. There's a big void there that really needs to change.
Continue: Why did you personally finish the Green New Deal? What made you do it and what made you figure it out?
Pollock: Environmental protection wasn't really my big deal. I understand what to expect, both in the environmental sector and as trade unionists. Both are in great danger and have been for a long time. This is a plan that addresses these dangers very clearly and very aggressively.
When Markey and AOC released the original resolution for the Green New Deal within a few weeks, the AFL-CIO national energy committee released a memo in which it basically just slammed and said, "No, we're not for it." And I wondered why because that was obviously a good thing for us, especially for the IBEW. While we represent some oil and gas workers for a fraction of what we have, we would dictate the terms of transition out of this industry and make sure our brothers and sisters who work in this industry are protected. And not only protected, but also able to thrive. For me, it was just completely confusing to say straight out that we weren't done with it. So I started getting into the business of doing research and talking to people. And now it's like I've become the IBEW Green New Deal guy.
Continue: How do you reach out to workers in affected industries who may be skeptical about leaving fossil fuels behind and getting a seat at the table for the new economy we need to build? As you mention in the video, if you don't have a seat at the table, you're on the menu. We saw this in the coal industry, where those companies just went bankrupt and stiffened workers and the black lung stiffened funds.
Pollock: Whether we let the fossil fuel industry end on our own terms or let the market dictate the terms, it ends. People know that no matter what we do, it will end and it is already happening.
If we look at the green economy as a whole new industry, while the fossil fuel industry was well established before we started organizing it and we come up from behind. If we get into the ground floor of the green industry, we can establish it on our own terms and organize it from the bottom up. Right now, green jobs are not organized so they are not the best jobs out there. Now these oil and gas workers are looking at this like I don't want to be one of those guys. If we get involved now and invest hard and strive for union formation, we can create an entire industry according to our own image.
Update, 10/16/20, 11:48 a.m .: This post has been updated to take into account that Pollock does not live in Siegel's district.