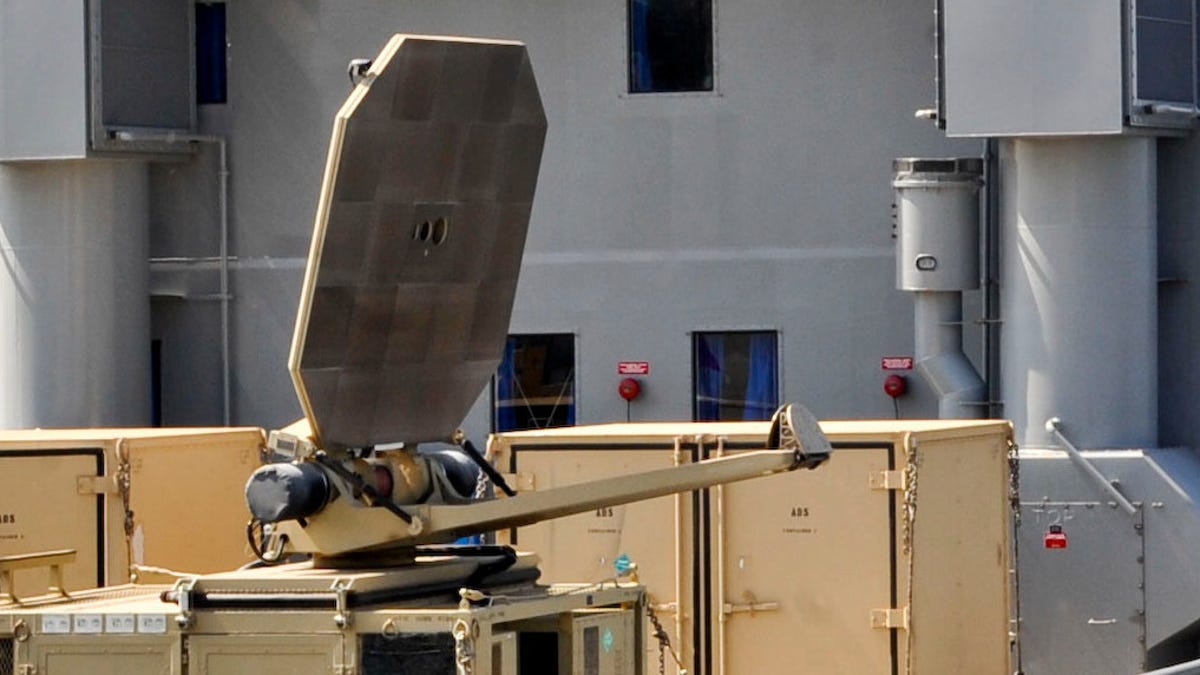 Federal troops in Washington, DC, were considering using high-tech weapons, including sonic cannons and "heat rays", against protesters outside the White House in June, a DC National Guard whistleblower testified. The new evidence was received from both of them NPR and the Washington Post Late on Wednesday, that's just another sign that the Trump regime is poised to escalate violence in U.S. cities in the run-up to the November presidential election.
The heat beam requested by federal officials, officially known as the Active Denial System, uses an invisible microwave beam to remotely burn human skin, causing immense pain. ADS weapons were provided first by US forces in Iraq following the US invasion in 2003, but it is unclear whether heat rays were ever used against people on US soil.
Whistleblower Major Adam DeMarco testified with the United States Natural Resources Committee, which on June 1 conducted an investigation into the use of federal forces to disperse protesters in Lafayette Square. President Donald Trump left the White House that day to appear in front of a church across the street, holding up a Bible. The federal forces ultimately used tear gas and overwhelming physical violence against the demonstrators and Media representativesand cleared the area so Trump could stage his photo op.
Major DeMarco served as the liaison between the National Guard and the U.S. Park Police on site outside the White House and was copied in emails asking the National Capital Region Department of Defense senior military policeman looking for solid weapons such as a Long Range Acoustic Device (LRAD) and heat rays.
G / O Media can receive a commission
An email quoted by DeMarco described the weapons as being capable of "providing our troops with a capacity that they currently do not have to reach potential enemies at distances far beyond the reach of small arms and in a safe and attack effectively and not fatally. "
DeMarco's written testimony states that he replied, "The DC National Guard did not have an LRAD or an ADS." An LRAD is used not only as a sonic weapon to produce a deafening sound, but can also be used as a public address system. However, according to DeMarco, none was present that day.
An unnamed Defense Department spokesman reportedly reported said NPR The email asking about heat rays was routine and was only used to get an accurate picture of the inventory available in the area. But downplaying such a request as a routine is perhaps the scariest part.
The U.S. government first began developing directional energy weapons in the 1960s as part of a project called Eighth Card, led by ARPA (now known as DARPA) to build laser capabilities. The project had its first success on November 13, 1973 at Kirtland Air Force Base, New Mexico, when ARPA successfully set fire to a Northrop MQM-33B drone during a test. The Pentagon did accepted Use of targeted energy weapons in both Iraq and Afghanistan, but again it is unclear whether they were ever used domestically against American targets.
The U.S. Department of Homeland Security was investigating the idea of ​​using a heat beam against immigrants on the U.S.-Mexico border just weeks before the 2018 midterm elections, according to a report from the U.S. Department of Homeland Security New York Times Last month. The then head of DHS, Kirstjen Nielsen, apparently rejected the idea, despite the fact that she committed countless other crimes against humanity during her tenure at the agency, including psychological torture against children taken from their parents and guardians. Nielsen consistently Congress was denied the existence of any family segregation policy – an obvious lie.
Another point of contention being investigated in connection with the June 1 attack on peaceful protesters is whether troops issued verbal warnings before attacking people. According to DeMarco, he was about 30 meters from the officer who allegedly ordered protesters to disperse and wrote in his testimony that the warnings "were barely audible and I could only make out several words".
All of this news comes at a time when Trump's Attorney General William Barr is reportedly urging federal prosecutors to indict demonstrators of sedition. Barr insists that violent protesters seek to overthrow the government and that anyone who "hinders or hinders a law enforcement officer who responds to riot" should face serious charges Wall Street Journal.
Barr has also investigated his indictments against the Democratic Mayor of Seattle, Jenny Durkan, for allowing citizens to create a so-called autonomous zone in the city that was eventually dismantled, according to a new report by the New York Times. The prison of your political opponents is, to say the least, a serious escalation of authoritarian tactics.
The idea of ​​US democracy hangs by a thread, with too many examples to count. There are Vigilante roadblocks In Oregon, federal forces in DC are researching radiant heat weapons and some are extreme fascist rhetoric to be pronounced by the Attorney General. President Trump even described that extrajudicial killing Portland shooting suspect Michael Reinoehl in "retaliation" for killing a Trump supporter. That last remark becomes even more worrying as details of the case emerge: Federal agents, according to one, did not attempt to take Reinoehl alive Eyewitnessand was just starting to shoot when he got to his residence. Trump has previously encouraged Police should shoot "thugs" and "looters" on sight.
The US has been going that route since Trump was sworn in on Jan. 20, 2017, while "sensible" experts told everyone not to panic. But it is probably time to panic. Or at least vote the bums. Even if President Trump does not accept the final results, as he does now proactive When describing the November elections as "rigged," it is important to at least raise your hand and say that you are against fascism. Because it is like that. This is fascism.