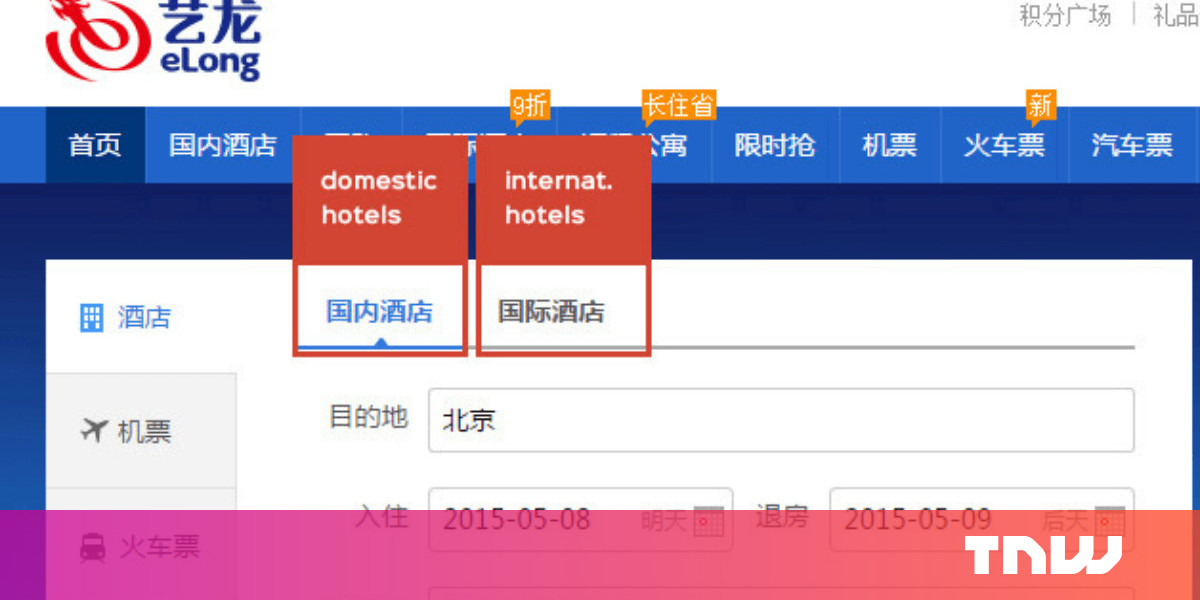 Browsing through travel sites is my strange, self-consuming, time-consuming extravaganza. I do not know what's so exciting about the ticket lists, I just like them. I like them in the way I like cheesecake and Pearl Jam.
I once wrote Adioso a sweeping fan mail because I thought her search for tickets to people was hotter than Jorah Mormont in full plate mail
My first experience with Chinese travel sites was booking tickets on eLong many moons ago ̵
1; 2007 I think? They had an English-language interface, and although they did not use any international payment methods at the time, I was able to stop by their office and hand over cash.
I have since followed or followed most of the major Chinese travel suppliers cTrip (they of transcendent English-speaking customer service), Qunar and to a lesser extent AliTrip, Alibaba recently entered the industry , Notable differences between these and most western-based companies abound:
Customer Touchpoints for Aggregators
Bypassing accountability by Western travel aggregators (except you Agoda ) has become an accepted norm Websites are there to search If you need help with your booking, call the airline or the hotel directly. The Expedia Hotline for Expedia is buried with five clicks:
Home
Support (Dropdown)> Customer Service
Contact Button
Select a topic> Select a category
Finally, long and terrible a telephone number
And then there is this agoraphobic customer service landing page of Orbitz :
International and domestic flights even have their own landing pages, being the deals and callouts are separated by target type. To be honest, I've been scouring a few research piles and can not understand why that is, and I can not see an answer to that question online. From a UX point of view, it seems superfluous.
For each type of search, there are some other form fields, but nothing that could not be consolidated into a single interface with a little smart thinking. Either there is a problem of imitation (everyone does it, so I have to), a technical problem or, I suspect, a user behavior that may indicate the possibility that Chinese consumers consider domestic and foreign travel as two separate things.
I'm in the process of finding some answers and keeping my fingers crossed.
"Disposable" Domestic is standard
Suppose these front-end options are determined by data, and the default settings can tell us a bit about which features are most popular. The default settings for searching for air tickets are "domestic, one-way". ("Roundtrip" is the default setting for the international tab.)
Again looking for final answers, but there are a couple of possible reasons that come to mind here:
Trains are very convenient and cheap. Chinese consumers are more likely to buy a plane ticket and a train ticket back there.
Chinese consumers are more likely to make domestic trips where the return date is determined upon arrival.
Chinese consumers prefer to buy two simple tickets rather than a round trip.
Some screenshots, again from the Big Four: